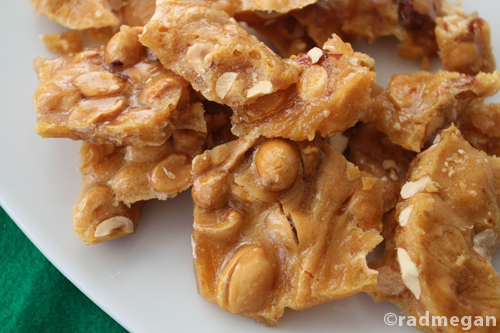 On Monday, I presented you with the best

peppermint bark

on the planet (an edible holiday gift for my sis-in-law). Today, I'm sharing a peanut brittle recipe- which is THE preferred sweet treat for several of MY family members! I'm all about edible gifts; they don't cost a ton of money, they are made with love and they get gobbled up! What's more perfect than that?
On top of being a thoughtful gesture for loved ones, this edible gift is also simple to make! In fact, I already had all of the ingredients in my pantry!
To make your own peanut brittle at home, you will need:
2 tablespoons butter, softened
Grease a large cookie sheet. Set aside. (I would actually recommend wrapping a cookie sheet with aluminum foil, and buttering the foil! You'll see why…)
In a heavy 2 quart saucepan, over medium heat, bring the sugar, corn syrup, salt, and water to a boil. 
Stir until the sugar is dissolved, then stir in the peanuts. Set a candy thermometer in place and continue cooking. 
Remove from heat; immediately stir in the butter and baking soda and pour the mixture onto a cookie sheet without too much hesitation. 
With 2 forks, lift and the pull peanut mixture into rectangle about 14×12 inches. It hardens rapidly, so work quickly.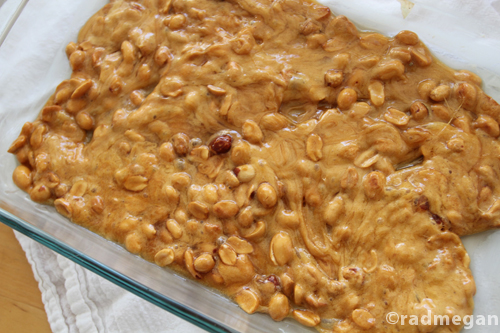 Admire your handiwork for a moment. Isn't that PRETTY? Now allow your brittle to cool. I placed mine in the refrigerator. 
Now, if you are using a clear Pyrex pan like I did (foolishly!), go ahead and admire your brittle from below. Again, pretty; like edible stained glass.
This is about the time I realized I had no idea how I was going to get my brittle OUT of the pan! The directions I followed, simply said, "Let your brittle cool, and then snap the candy into pieces."
My high-rimmed Pyrex was doing me no favors here, and it took a heavy metal slotted spoon, my husband's brute force and one butter knife that is now "L-shaped" to free the brittle from the pan.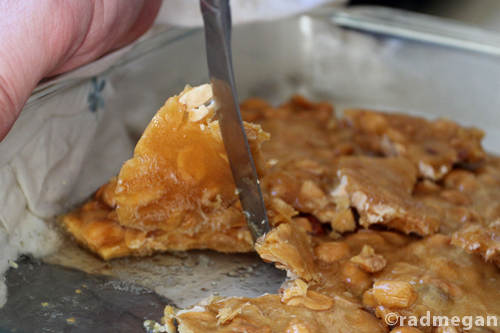 Deeeeeeelicious! This brittle, in addition to the

peppermint bark

, was presented to the taste-tester in-laws who gobbled up my entire sample bag of peanut brittle, and gave it a hearty thumbs up.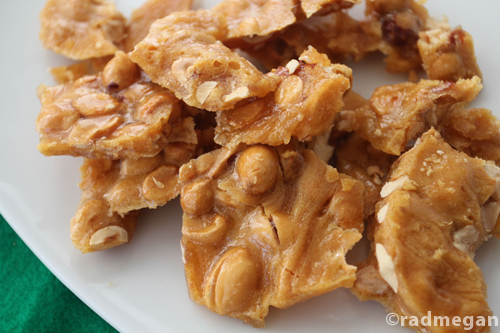 While I'm not a big brittle person myself, I was very pleased with the results!
A couple of things to note: If you want a nice stiff brittle, make yours on a low-humidity day. I made mine on a dry, winter afternoon, but I'd read a few sad stories online about limp brittle made on a rainy day.
And while looking for tips on extracting my brittle from a well-buttered pan, I also ran across more than one account of folks who had forgotten to grease their pan altogether… I'd like to remind you to butter your pan or foil-wrapped cookie sheet very, very well.
I hope that if you give this recipe a shot, you enjoy!