The other night, I was in the mood for something warm, hearty and filling for dinner. I needed a comfort meal that wasn't too crazy-elaborate to assemble. I was also craving meat in a big way. What can I say, it happens. 
I flipped through a few of my favorite stand-by cookbooks for something to jump out at me, and when none of the usual suspects provided me with the inspiration I was looking for, I turned to my copy of Plachutta: The Best of Viennese Cooking.
When I visited Austria this summer to
record this
, I had the distinct pleasure of eating at
Plachutta
in Vienna. In a word, it was divine. My husband and I dined with some long-lost-family, and I left with the only English copy of their most popular cookbook (see above). The cookbook is so well-photographed and well-writen that it is as close to their in-restaurant experience as you can get without boarding a plane.
When I returned home from my travels this summer, it was FAR too warm in my kitchen to make any of the traditional Austrian dishes I'd been missing. But now? I'm bundled up in a thick sweater listening to the rain on the windows. Lets get started! 
The first recipe I tackled for dinner was the Viennese Potato Salad, or "Erdäpfelsalat." For this recipe you will need:
600g (20-22 oz) New potatoes (I used fingerling)
.2
Litres
fat-free beef broth or warm water
1/2 medium onion, minced
3 tablespoons apple cider vinegar
6-8 tablespoons vegetable oil (I used olive)
salt and pepper to taste
Boil the potatoes in salted water, strain, peel (I left the skins on) and cut into very thin slices while still warm. Pour a bit of warm broth over them, add the onion, vinegar, oil and salt and pepper. Stir together, and then let stand for one hour. 
Serve room temperature, or chill in the refrigerator before serving. 
The creaminess that you may be accustomed to in American potato salad is somehow present in this dish! 
Next up, I was ready to make the main event- beef-filled cabbage rolls, or 
"Krautwickler"
 as its known in Austria. 
For this recipe you will need:
2 bread rolls for the filling
50g (16 oz) onions, minced
2 cloves of garlic, pressed
500g (1 pound) meat, minced (feel free to substitute beef/bison with lamb, turkey, or pork)
1 tablespoon dried Marjoram, ground
about 3 tablespoons dry breadcrumbs
1 tablespoon parsley, chopped
Soak the bread rolls in water, squeeze out and then puree or chop with a blender. Lightly saute onions in hot oil, add garlic and let cool. Then knead together with bread, meat, egg, seasonings and breadcrumbs. 
Remove the wilted leaves from the cabbage head, and boil the entire head in water for several minutes. Carefully remove cabbage leaves from the water, and one-at-a-time fill them with 2-3 tablespoons of the meat filling. Wrap the cabbage leaf around the meat entirely, and place in a greased baking pan. Continue removing cabbage leaves from the boiling water and filling them with the meat mixture, until you have used all of your filling. Pre-Heat oven to 200c (400F.)
Add  a strip of bacon to each cabbage roll, and bake for about 30 minutes, and drizzle sour cream over each of your cabbage rolls (I removed the bacon, and then replaced it so that I knew the bacon was cooked thoroughly. Put the pan back into the oven for another10-15 minutes, or until the bacon is cooked and a meat thermometer inserted into one of the rolls confirms your meat is done.  
Serve immediately with the potato salad and bread rolls.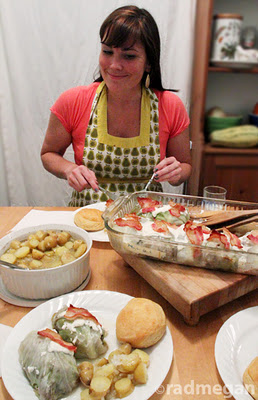 My husband LOVED our hearty meal, and it was exactly what I was hungry for. Not too labor-intensive, but a delicious pay-off! I'm looking forward to trying more of the recipes within the Plachutta cookbook and will of course share the best of them with you here!