At some point this year, I decided I needed more glitter in my life. And unicorns. We've all been there right? Sure, most of us were 8 years old, but here I am, in my 30's and drawn like a moth to a flame to… glitter. And unicorns.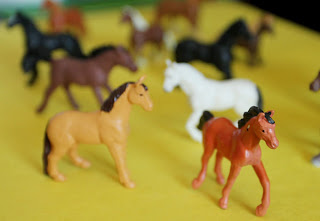 I had a pack of plastic horses lying around for me the nieces and nephews to play with, and set out to make my molded mares into magical unicorns! I grabbed a pack of Sculpey clay, and a metal nail file. It might sound brutal, but using a metal nail file will allow you to flatten enough of a base on your horse's head to attach a Sculpey horn (or wings if you are more of a Pegasus kind of person..). Bake the horned-horses per the instructions on the Sculpey box- but keep an eye on your horses as they bake. They *are*plastic, and out of 10 that I baked, two ended up with melted feet. No wonder unicorns are so rare.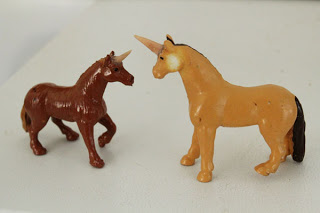 Once the horses unicorns are out of the oven, paint them up with some Mod Podge.
If you haven't done so already, grab a large piece of paper to work on. Then cover the Mod Podged horse in any color glitter you fancy.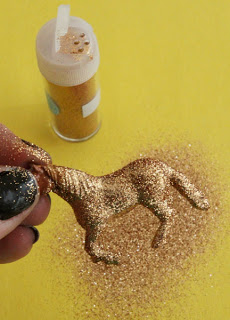 I usually started by grabbing the face of the unicorn, and coating the body with glitter, then, after the body is dry, I will paint and glitter the face. And since we put the paper down under the unicorn, it's much easier to pour the left over glitter back into the containers. 
Once my collection was complete, I took them outside to photography them in full sun. Those sparkles and bursts are not Photoshopped! These little glitter unicorns are sooooo shimmery!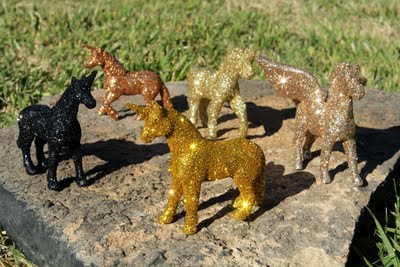 I was overjoyed with my collection of sparkly unicorns. And when a girlfriend of mine brought her 2-year old over for a craft day, she too was drawn immediately to the "Sparkle Ponies." Um, kid, they are unicorns, OK? Either way, we crafted up some "sparkle ponies" for her to take home, and with some supervision, this was a great craft for a 2-year old! Plus, she loved her "Sparkle ponies" so much, she held onto them with a ninja death grip during a long walk to the park and back, and even fell asleep with them. 
And when she woke up fussy after a nap, her first sobbing words were, "Spppp (sob sob) aaaarkle (sob) Poooooo niessssss!" As soon as they were found in the creases of her crib, she returned to the happy toddler we all adored. 
Is there anything a glitter-encrusted unicorn CAN'T do?