What's my favorite thing about summertime? Everything. I love being outside. I love camping. I love the beach. I love long days full of warm sunshine, and cool water. What do I hate about summertime? That it eventually comes to an ends. 
For me, pressing seaweed is one way to keep summer alive throughout the year, so this week I grabbed two of my favorite kids, and hit the beach in search of sun, fun and seaweed.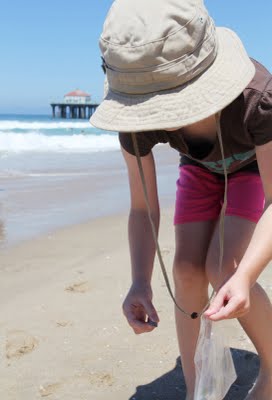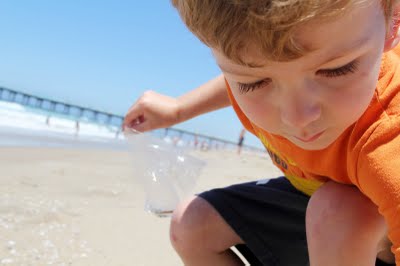 And most of all, we
edited
.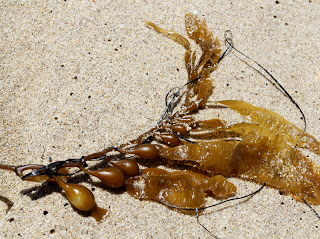 While I've been to beaches that were strewn with seaweed, the one we picked this week (Huntington Beach) was fairly bare- which is fantastic for lying in the sand and floating in the water, but we were mindful about how many pieces of seaweed we took home since there wasn't an abundance.
When we did finally bid
the sea 
adieu, we returned home and gave our seaweed a good rinse under the tap. Then we let it sit on a paper towel for a spell, while we located one of my trusty old $1 hardback-books from the bargain tray of a local used books store. When I press seaweed, I like to use a THICK hardback book. (Personal note: For about 6 years I used Howard Stern's first book
Private Parts
.
But a couple of years ago, it finally disintegrated- so don't choose a book you LOVE for this craft. What you will need to press your own seaweed at home is:
– A used hardback book you don't care about damaging
– Heavy things like bricks or potted plants
Take a piece of wax paper that is large enough to cover both facing pages of your book. Lay the fresh seaweed down on the wax paper, and use your toothpick to straighten out the seaweed. The way you close your book is the way your seaweed will stay, so take the time to really untangle it, and make it look as lovely as you can. 
Once your seaweed is completely untangled, fold the wax paper over it, and gently press down on the book. I will often press several pieces of seaweed in the same book, but make sure there are enough book pages between the seaweeds that the liquid won't seep from one piece to the next. Too much liquid in your seaweed press can lead to a moldy finished product.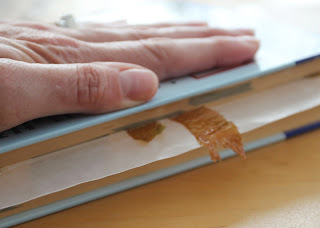 To prevent mold from growing, I usually place my seaweed-stuffed book outside in an area where the dry 
summer 
breeze can help wick out any extra moisture. I also stack heavy objects- like bricks, potted plants, or additional books on top of my make-shift seaweed press.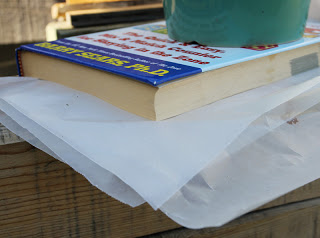 Then, I leave the whole thing alone for a few months…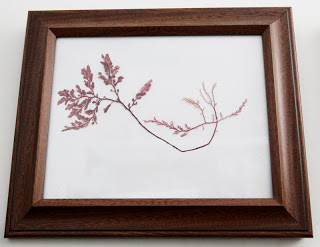 When I'm done, I place my seaweed on a white backing and frame it. If I can find the Latin name of the seaweed online, I will hand-write it under the specimen. 
There have been cases where I've lost a piece of seaweed here or there to mold, but I typically end up with about a 95% success rate.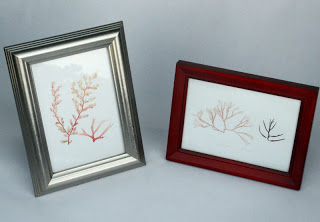 I really love the natural history quality that pressed seaweed adds to my home. But more importantly, it makes me feel like summer fun is never too far away!