It's that time again, another Daring Cooks challenge, and another opportunity to try something completely new in the kitchen!
I've been known to make a few South American dishes at home, but have never before tried Papas Rellenas. Since I love savory "thing-within-a-thing" meals (like Scotch Eggs and Beef Wellington) I was excited to try this recipe which consists of tasty seasoned beef within a fried shell of mashed potatoes!


Papas Rellenas:
Dough: 2¼ lb russet potatoes


1 large egg
Salt and pepper to taste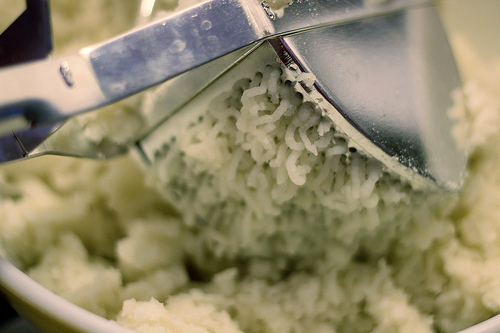 For the potato dough:
Boil peeled potatoes until cooked through. Remove from water. Once the potatoes have cooled, mash them with a potato masher or ricer. Add egg, salt and pepper and knead thoroughly to ensure that ingredients are well combined and uniformly distributed. Set your "dough" aside.
2 tablespoon of a light oil

6 black olives, pitted and chopped 

3 hard boiled large eggs, chopped

1 small onion, finely diced

½ cup raisins, soaked in 1 cup boiling water for 10 minutes, then minced

1 finely diced Jalapeno peppers

2 cloves garlic, minced or passed through a press 

¼ c. white wine, water or beef stock for deglazing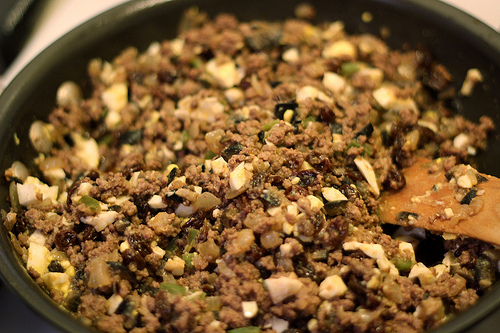 To begin the beef filling, brown the onions and garlic in oil. Add the Jalapeno and sauté. Add ground beef and brown. Rinse excess liquid. Add raisins, cumin and paprika and cook together until combined. De-glaze the pan with white wine. Add olives and cook for a few moments longer. Remove from heat, and add hard-boiled eggs. Allow filling to cool before forming "papas."
To fry the Papas:

1 large egg, beaten

Oil for frying (2"  in a heavy pot)
Combine flour, cayenne and salt in one bowl, and set aside. Beat an egg with a little water in a second bowl. Add bread crumbs to a third bowl. Flour your hands and scoop 1/6 of the total dough to make a pancake shape. Spoon a generous amount of the beef filling into the center and then roll the potato closed, forming a smooth, potato-shaped shell around the filling. Repeat until all of the dough is gone.
Heat 2 inches of oil in a pan to about 350 – 375° F. Dip each papa in the three bowls to coat: first roll in flour, coat with egg, then roll in the bread crumbs.
Fry the papas about 2-3 minutes until golden brown. Drain on paper towel and store in a 200ºF oven if frying in batches.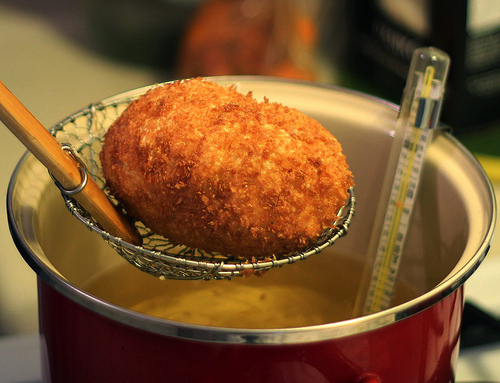 In addition to the Papas Rellenas, I also prepared a Ceviche for this challenge. The recipe I used was provided by the Daring Kitchen:




2 lbs. firm white fish 

2 garlic cloves, mashed


1 chili pepper, minced Jalapeno
1 cob corn, cooked and cut
1 ripe avocado

1 cup freshly squeezed lime juice

1 tablespoon fresh cilantro, finely chopped


1 red onion, thinly sliced lengthwise


Salt and pepper (to taste)

Wash and trim your fish. 




Cut the fish into ½-inch cubes. Place in a non-reactive, shallow pan in a thin layer. Season with salt and pepper. Combine lime juice, Jalapeno, cilantro and garlic in a separate bowl. Pour mixture over fish. Stir lightly to expose all the fish to the lime juice mixture. Place sliced onion on top of fish as it "cooks". Cover and refrigerate 10 minutes- 24 hours. Mix in corn and avocado, and serve.
* It is important to use fresh fish for this recipe.


While I've made Ceviche at home before, I was serving this meal to my husband and a friend of ours. Our friend seemed to really enjoy the Ceviche up until I mentioned that the fish had only been "cooked" with the acid of a few limes and lemons. After learning the fish was essentially raw, he began pushing it around on his plate and stopped eating it. I quite enjoyed it, and so did my husband. 
Thanks to Kathlyn for this Daring Cooks challenge! Kathlyn, of Bake Like a Ninja was our Daring Cooks' March 2011 hostess. Kathlyn challenged us to make two classic Peruvian dishes: Ceviche de Pescado from "Peruvian Cooking – Basic Recipes" by Annik Franco Barreau. And Papas Rellenas adapted from a home recipe by Kathlyn's Spanish teacher, Mayra.