Now that I have half a dozen heart-shaped hard-boiled eggs from yesterday's post, I wanted to use them in a way that showed off their pretty insides, rather than mashing them up for egg salad. 
The first thing that came to my mind, was Scotch Eggs. Scotch Eggs are hard boiled eggs, wrapped in sausage and breadcrumbs, and then fried and baked. They are sooooo gooood. They look like monster-sized meatballs, but when you cut into them it's like a burst of yummy sunshine.
To make Scotch Eggs, I used my six "heart-boiled" eggs, and one pound of pork sausage. I patted the sausage into a disc, and then wrapped it around the eggs.
Then I brushed the sausage with one beaten egg, and coated it lightly with flour.
Next, I rolled the sausage ball in Panko breadcrumbs.
With two of my Scotch Eggs, I fried them in vegetable oil that had been brought up to 350 degrees. Once they were golden brown, I baked them for 10 minutes in the oven at 350 degrees. With the other four eggs, I put them straight into the oven on an un-greased cookie sheet for 45 minutes at 350 degrees. I wanted to see if there was a big difference in taste, since it seemed like it would save a lot of calories to skip the frying…
While the (all-baked) Scotch Eggs tasted just as good as the (fried-first-then-baked) Scotch Eggs, the ones that were fried first sure
looked
prettier; they were golden brown and evenly crispy. The (all-baked) Scotch Eggs looked a little uneven. Like I said, they tasted just as good, and were completely cooked but the presentation wasn't as striking. Before serving both types of eggs, I let them rest on a stack of napkins to absorb the extra grease.
Have I mentioned how tasty and satisfying these were? The salt from the sausage was the perfect compliment to the egg. The crispy outer crust was juicy and tender, while the yolky inside was so creamy. One Scotch Egg is enough for a person, but if you have a hungry husband or teenage boys, these may disappear quicker than you can believe.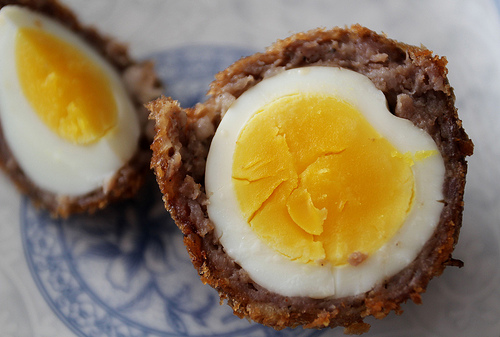 Serve them cold with pickles and salad, or warm with spicy mustard or ranch dressing. Great for picnics, breakfast-on-the-go, or just a hearty after-school snack, this is one of those things you can make ahead of time and leave in the fridge for your family to nibble on. 
Even though the heart-shape got lost in some of the Scotch Eggs, they were still filled with lots of love! Awwww… thanks for reading, hope you enjoyed.