Yesterday, my husband had a crummy day. He called me from gridlock traffic around 7pm, to see if I could make pizza for dinner. L.A traffic was especially nightmarish last night, so a quick trip to the market for fresh veggies was not an option. The next best solution was to get resourceful with what we had in the pantry and refrigerator; the contents of which included: a 
Boboli
 pizza crust (no idea who bought this or when (moderately alarming)) tomato sauce, assorted herbs, mozzarella cheese (in both grated and cheese stick form) and a half dozen eggs.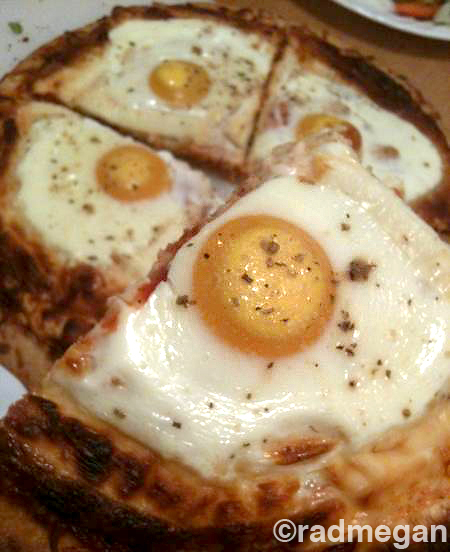 With some creative cheese placement (to create little wells for the raw eggs) and 10 minutes in a 450 degree oven, followed by another 10-12 at 375, we had a perfectly tasty pizza that took almost no time at all but yielded seriously delicious results. The egg yolk was gooey and delicious, and my husband's gloomy mood lifted with each bite! Next time, I'll make my own pizza crust, but everything else will be EXACTLY the same. Yum yum!! P.S. The photos come to you from my

Instagram feed

.

 

I think next time, I'll also use my Canon!