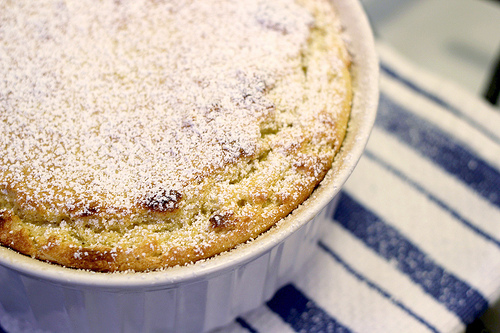 For me, Soufflé was Mt. Everest; a(n eggy) mountain that I would never climb, a goal I never thought I would accomplish. For a long time, my oven held me back. Or at least that's what I told myself, and others. Who in their right mind would bake a soufflé in an oven with no window? Please, not this girl. Then I moved into a one-room studio the size of a teacup and realized AFTER I unpacked my last worldly position that there was a range but no oven at all. Woopsie. Now that I have a big-girl oven
with
a window, I decided it was time to hire a Sherpa (consult
marthastewart.com
) and thrust my proverbial flag into a soufflé once and for all.
I've had plenty of cooking disasters. The worst that could happen would be another mention on
CraftFail
, and delivery pizza for dinner, so I found a straightforward recipe on
marthastewart.com
with only a few ingredients. I tend to gravitate towards simple recipes when I'm baking something new. Something about the basic chemistry of a few eggs and a little milk really makes me feel connected to the past. I'm sure the first soufflés were minimal, moist and light.  My soufflé wasn't the most exquisite I've seen, but it had a rustic charm and tasted sooo good. The sugared base of the dish created a golden crust for the pillowy center to rest on. The hint of nutmeg and maple syrup complemented the natural sugars of the sweet potato. It was everything I had hoped it would be.
Here's the recipe I used:
1-tablespoon butter, plus more for soufflé dish
2 tablespoons all-purpose flour
1 cup Mashed Sweet Potatoes
3 large eggs, room temperature, separated
1/2-teaspoon ground nutmeg
Preheat oven to 375 degrees. Butter a 1 1/2-quart soufflé dish; dust with sugar. In a medium saucepan, heat butter over medium. Add flour, and cook, stirring, until golden, about 2 minutes. Gradually whisk in milk; simmer, whisking constantly, until thickened, about 1 minute. Remove from heat; mix in sweet potatoes and egg yolks. Stir in maple syrup and nutmeg, and set aside.
Using an electric mixer, beat egg whites with a pinch of salt until stiff peaks form. Whisk 1/4 of whites into sweet potato mixture; using a rubber spatula, gently fold in remaining whites. Pour mixture into prepared dish; place on a rimmed baking sheet. Bake until puffed, 35 to 45 minutes. Serve immediately, and dust with powdered sugar. 
I felt accomplished. My husband was impressed. He ate half of the soufflé in one sitting. The rest was gone by morning. If you fear soufflé like I did, I would recommend this recipe. As long as you can cope with the little tickle of stress that it MAY fall, this particular dish would be a wonderful addition to any table. And if you do make this, I'd love to hear how it turned out for you. Good luck and happy baking!