It's entirely possible that this week will be filled with soft and felted creatures. Each day I set out to do a number of different and new things, and somehow I am drawn back to my desk where piles of wool roving blow across the surface like rainbow tumbleweed across the highway. Moments later, my barbed needle is bouncing up and down on a pile of fluff, forming, matting, and compressing it until a new felted friend appears.

Yesterday I asked for suggestions on animals you would like to see, and received the following:

An Elephant
A Sloth
A Monkey WITH a Banana
And a LARGER Aquarium of Fish

All such good ideas!! Thank you for the inspiration… I'm on it.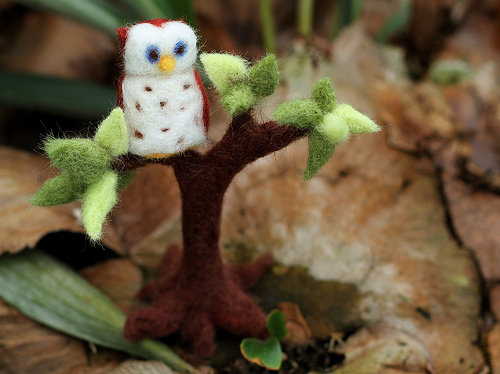 Today's post is an owl in a tree. Because I love owls. I love trees. And I'm really stoked on the improvements I'm making with felting. If you are not yet convinced, consider that this owl was my second felting project EVER!! (The Goldfish just wanted to be posted first… fish can be so pushy sometimes, can't they?)


Thank you for reading, and thanks again for the suggestions. More recipes and crafts coming soon- I promise.