I adore my husband. He's the greatest man I've ever known and my perfect match in nearly every way. When Valentine's Day rolls around however, I never want to
buy
him anything because he thinks that V-day is a "made up Hallmark card holiday" and a complete waste of money.
Me? I can't help it. I'm a natural-born gift-giver. And on VALENTINE'S DAY, I relish the opportunity to tell my loved ones just exactly how loved they are. Since February 14th is just around the corner, I've started working on homemade gifts that say, "I'm crazy about you, but didn't spend any money on you." Thrifty, sensible, thoughtful. Yay.
The first of these homemade gifts, is a wood-grain paper frame with stand.
I've admired wood grain on paper products, fabric, and even carved into yummy desserts. I never tire of it. I LOVE wood grain and thought that painting it onto a paper frame would make my hand-made gift that much cuter.
I grabbed my trusty pad of watercolor paper, two containers of acrylic paint (a metallic brown and lemony yellow), and a saucer of water. With wet strokes, I painted on an uneven layer of brown, and ran some yellow streaks through it. The nice thing about painting wood grain, is that you don't need to be terribly careful with your strokes.
After painting the brown and yellow base, I washed my brush and flipped it around so that the bristles were pointed towards the sky. With the wrong-end of the paint brush I drew uneven, but parallel lines into the wet paint. I added a few "knots" in the wood by drawing in ovals and tracing them loosely, and presto: we've got wood! Let the paper dry for a spell and repeat this technique on the backside of your paper.
After the paper has dried completely, grab the photo you would like to frame and the following:
A pair of scissors
X-Acto knife
Tacky glue
Markers
Cutting board
Clothes pins (or a chip clip.)
Fold the painted paper in half and slip the photograph inside the fold to get an idea of how large you would like your frame. I was framing a 5×7 photograph and wanted my frame to be about the same size- if not slightly larger.
I measured out a rectangle on one side of the folded paper (where the photograph would peek through) and drew convex rounds in the corners to give it a little extra design element. I removed the photograph from the inside of the fold, unfolded the paper and placed it on the cutting board. With my X-Acto knife, I carefully cut out the rectangle. I folded the paper again and slipped the photo back inside the card to make sure I was happy with the size.
With a toothpick, I applied Tacky glue around the edges of the frame and pressed the edges together- securing them with clothes pins.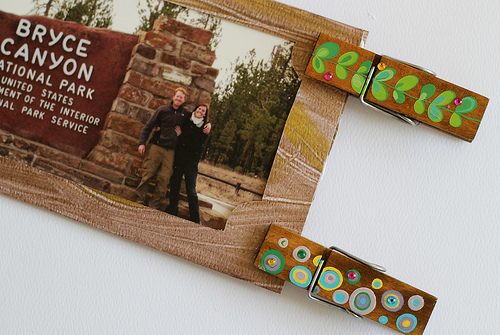 Once the glue is dry, you can trim up any uneven ends, or add accents to the frame by using a brown Sharpie to draw in matting lines, or cut strips from the painted paper to create the illusion of depth.
To make the frame stand, trace and cut-out the shape above on another piece of watercolor paper and color both sides with a marker. Fold along the dotted line, and your stand is done!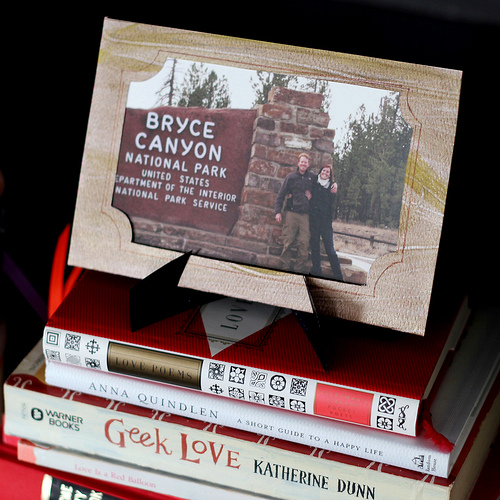 I love framing photos from old road trips, birthdays and holidays. It's a great way to remind your loved ones of all the fun you have together, and a cheap way to show them how much you care.