Over the weekend, I decided I needed to make candles from scratch.
Was my house not messy enough? Didn't my pile of homemade gifts already look like the 

Island of Misfit Toys

?  I really should limit my internet surfing to six or seven hours daily, because I see these incredible hand-made gifts for sale, (and mind you- I get that a lot of the things I see at 

Terrain

 and 

Anthropologie

 

etc.

, are NOT in fact homemade, but machine-made, OR produced by crazy-talented professional crafters and artists who are robotic in their precision, patience, and skill) but I seeee these things, and that little voice inside my head starts whispering, "If they can do it, so can you… my preeecious" 
So! Where to being? For at-home candle making, you will need: 
Metal tins (new, or recycled (tea tins, 

Altoid gum tins
etc…)
Band-Aids, Ice Cubes, Aloe Vera, the patience of a Saint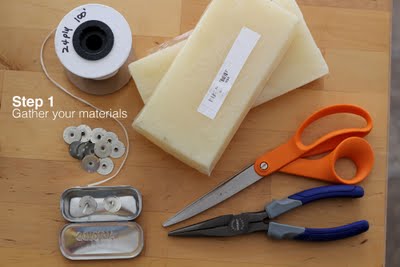 Start out by snipping the candlewicks about two and a half inches longer than the height of your tallest tins. For shallow tins cut the wicks about an inch higher than the tin. 
Thread the wicks through the metal wick bases, and pinch the top of the base closed with pliers. Repeat, repeat and repeat. Next, hot glue a wick base in the center of each metal tin. Once all of the tins have their wicks glued in, wrap rubber bands and around the lip of the tin, and tuck the wick thread into the rubber band to secure it.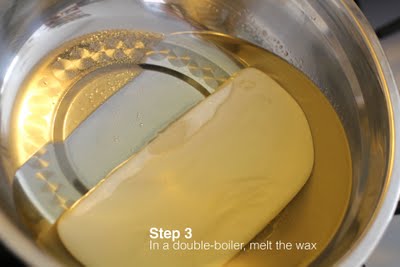 Put the blocks of wax in a double boiler on the stove, and using a silicone spatula, stir gently until the wax has melted.  Place all of the tins on a piece of wax paper, and using a funnel, pour the hot wax into each tin. Sprinkle the loose-leaf tea into the wax, and take care to make sure all of the wicks are centered, and that none of them have sunk down into the hot wax before it sets.
Leave candles alone until the wax has dried completely (I left mine for a few hours.) Use the drying time to tend to any spilled wax, burns, or scattered tea. I made a crazy mess of the kitchen while making these candles, so there was plenty of clean-up.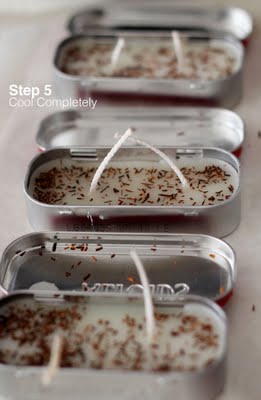 At first, my candles looked awesome. Over time, a few of the taller candles developed cracks in the wax. Also, I still have wax all over the inside of my funnel and double boiler. The dried wax chipped off of my silicone spatula with no problem, but I'm still trying to figure out the best way to clean up (or ignore forever) my waxy metal bowl and plastic cooking funnel. 
I'm going to go ahead and file this craft alongside

homemade marshmallow

under, "Crafts to do if you love a mess, spending money, and risking injury." 
Was I happy with the final product? Sure! Did they look like the rustic, yet polished stuff I bookmark online? Mmm nope! Was this cheaper than buying my own candles? Not by a long shot. But what better way to say, "happy holidays" than by coating your kitchen in wax and potentially incurring second degree burns for loved ones. 
It's the thought that counts, and I thought you wanted a cracked and faintly tea-scented candle I made from old gum tins… looooove you.