With Halloween rapidly approaching, candies and chocolates have infiltrated the entire supermarket. I can typically avoid their sultry stares by skipping the single candy-isle and defiantly turning my back to them at checkout. Lately though, they catch my eye near the produce, dairy and grain isles, give me flirty smiles, and whispering sweet nothings. I walk off in a huff, offended at their ubiquitous cat-calls, but hours later, I drift back to our stolen moments and subtle exchanges, and I find myself wanting candy more than I have all year. Cruel mistress.


I decided that I would not succumb to the pre-packaged stuff this year, and instead, make my own delectables from high quality ingredients with full control over the amounts and proportions, and embarked on homemade peanut butter cups.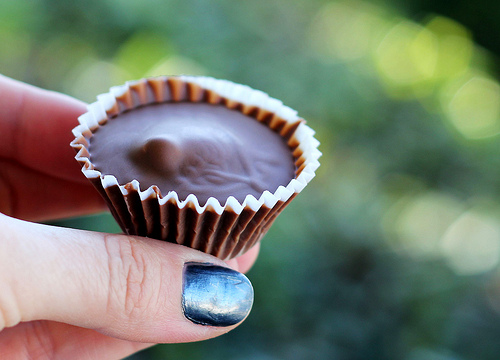 Ingredients:
1 16-oz jar Laura Scudder's Old Fashioned Peanut Butter, Smooth
1 2-lb bag high quality chocolate chips, milk or dark
1 1/2 cup powered sugar
2 TBSP butter, softened
Cooking Spray
Mini Cupcake Papers


Empty the peanut butter into a bowl and stir in the powdered sugar. Mix in the softened butter and set aside. Melt the chocolate in a double boiler, stirring with a spatula. The chocolate should be smooth and velvety. Arrange your cupcake papers onto a baking sheet and lightly mist with cooking spray. Spoon the melted chocolate into the cupcake papers, coating the bottoms and sides entirely. Set the extra chocolate aside. Once all cupcake papers are coated, place the tray in the refrigerator to cool for about five to ten minutes. Pipe or spoon the peanut butter mixture into the cooled chocolate cups, and then spoon the remaining melted chocolate over the top of the peanut butter and place the tray back in the refrigerator for another 30-minutes to set completely. Serve and enjoy. 


Please note that these are ridiculously delicious. Make them when you know friends are coming for a visit, so that you can send them away with the people you love. Otherwise you may find yourself justifying peanut butter cups as a reasonable breakfast choice. This is the voice of experience speaking.

Photos below.