On the heels of my post about our pathetic summer, she comes to LA for the weekend to punish us all and make up for her three-month absence. Desperate to stay cool and hydrated, my husband told me about fruit-freezing; packing dry ice into a cooler with fruit, leaving it for a few hours and when you eat it, it's supposed to be frozen solid and carbonated. I couldn't get past the bit about something being frozen solid and carbonated (bubbly!) so we had to give it a go. 
Step 1. Acquire Dry Ice. (Bring gloves with you to the market)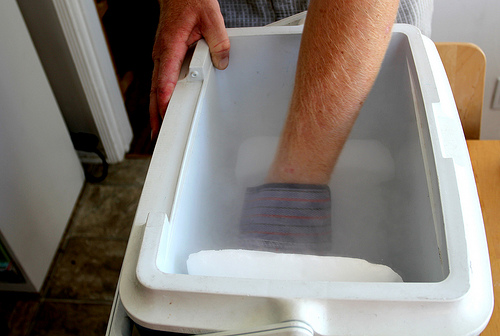 Just about every supermarket sells dry ice in a locked cooler next to the bagged ice display. Use leather, or cloth gloves to handle the ice. 
Step 2. Chop up watermelon, honeydew, cantaloup and place in a zip-close freezer bag. Throw some grapes in for good measure. Insulate the freezer bag with a brown paper bag, set the insulated fruit bag directly on top of the dry ice block and close up the cooler. 
Step 3. Let the cooler and dry ice work their magic for 4+ hours. 
Step 4. Serve immediately and enjoy gnawing at your frozen fruit. The texture is fantastic! Not quite Hawaiian Shave Ice, not quite a popsicle, but completely delicious.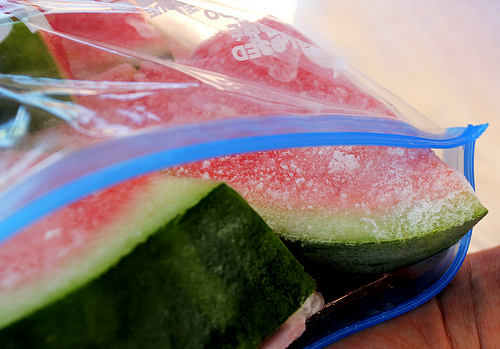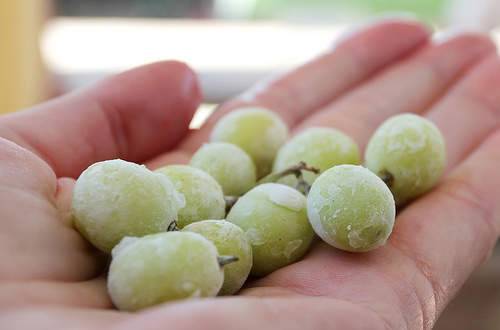 As far as carbonation goes, if you let the grapes thaw out for a while, you can maybe, kinda sorta feel a little bit of fizz, but for me the pay-off was really biting into a frozen grape (careful they do freeze onto your tongue if eaten too quickly!), and a thick piece of melon on a hot day. It's a fun change that kids and adults will love! So friends in L.A. and in other toasty places, this week drink lots of water, stay in the shade as much as possible and try dry ice to freeze up a tasty treat!