Have you ever gotten a book and after you read it, you thought, "Dang, I wish I had written that book." Not because you would have done it differently, but because it was just that good? Yea, well, welcome to "Feltlicious", by Kari Chapin and Kerri Wessel.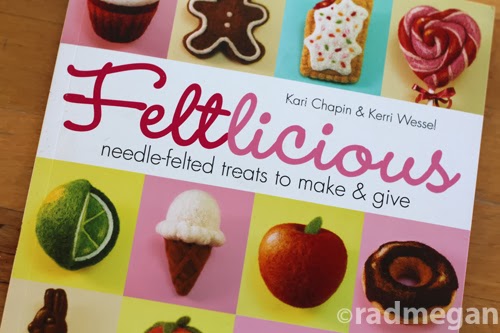 "Feltlicious, needle-felted treats to make & give," is a treat itself. I love needle felting and have been doing it for several years now, but somehow this book has several, "Why didn't I think of that" tips and tricks. My favorite is one on blending colors. Pure genius. 
(Oh, I'm not telling you what that trick is, by the way, go get the book and see for yourself. And then we can both do a facepalm and go, "Ooooh that was good.")
I was sent an awesome little felting kit by Kari and Kerri's publisher to make the apple in their book. The steps to make it are super clear and easy to follow. In fact, I really enjoyed felting the apple, thanks to all the fun details that brought it to life- like the tiny highlights in the seeds, the little depression where the leaf grows out etc…
The photos in this book are great too- really inspiring. One of the many things I love about the projects within Feltlicious, is the use of highlights to make things look more realistic. It's not always so easy to needle-felt a wet-looking apple or Popsicle, but the way they blend and apply colors does an amazing job of transforming wool into cute, and even yummy looking food. 
When I started needle felting a few years ago, there weren't many books that explained the differences in tools you would use, or the types of wool roving. This really breaks down what to use when, and how to make your own nifty tools for quicker felting.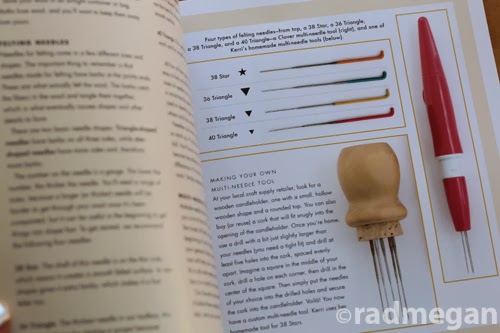 There's also a chapter on sewing suggestions, so that you can turn your felted creations into paperweights, key chains, wall hangings and more. This is another brilliant move. When I taught needle-felting classes, the students would look proudly down at their sculpted items and ask, "What do I do with this now?" Feltlicious has loads of ideas for you. 
I strung up my apple for a cute and quick Christmas ornament.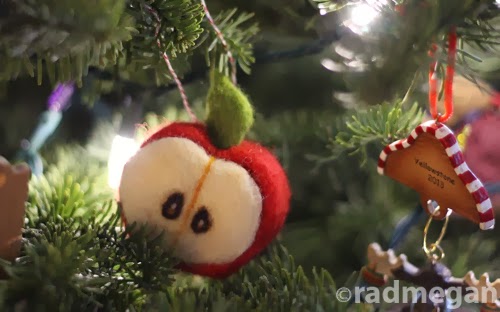 I can't say enough good things about this book (except that I wish my n

eedle-felted Peeps

could have been part of this fab food fest! Maybe if Kari/Kerri write a follow up book, they can make a guest appearance, otherwise, it's a nearly perfect publication! 😉
It's also a wonderful Christmas gift for your favorite foodie and crafter- and you really don't have much more time, so you should probably just go buy this book for everyone left on your list!