After needle-felting myself a 

Kermit the Frog

the other day, I was so tickled, that I couldn't wait to get started making more Muppets! I have another Kermit in progress, and I got a few of suggestions for needle-felted Piggies, Gonzos, and Swedish Chefs, but several of you asked for Beaker. 
I need you guys to know, that I. Love. Beaker. There's something about his loyalty to/constant fear of Dr. Bunsen Honeydew that I just find endearing. I found myself watching countless YouTube videos highlighting the misadventures of these two Muppets as they "Create the World of Tomorrow, Today."
Naturally, I had to make myself a Beaker immediately.
I thought that if I ONLY made a Beaker, and NOT a Bunsen Honeydew, Beaker would have nothing to fear…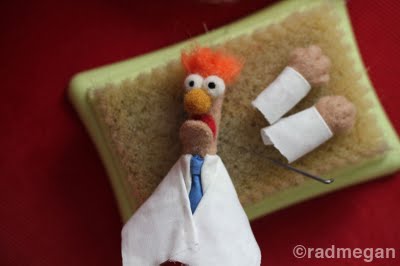 … but, almost instantly, he began to panic about everything!
For instance, when he was finally assembled and dressed, I showed him his reflection in the mirror. And?
HE.
 FREAKED. 
 OUT.
When I took him outside to show him the pretty flowers in the garden, he thought he was having an allergy attack and started to hyper-ventilate. (See first image.) Is it Dr. Bunsen Honeydew I should blame for Beaker's permanent case of

PTSD

? Or is that JUST who Beaker is?

 If Kermit can't calm him down a little, I think I'm going to have to needle-felt some Xanax for my newest needle-feted Muppet friend.