Yesterday, I needle-felted a new, old friend.
Kermit the Frog
was my first love. When I was a little girl, I was a HUGE Muppet fan. I loved the
Muppet Show
,
Fraggle Rock
,
Sesame Street
…I had plush versions of all of the characters, and would line them up next to me in bed before I fell asleep. Kermit was always on my left.
Gonzo
was usually on my right.
Piggie
, (that pushy frog-chasing hussy), was placed strategically at the end of the line after
Rowlf
, or
Dr. 
Bunsen Honeydew
.
AND a new
Muppet Movie
 due out on November 23rd!
 I was so excited I went into an

Animal

-style freak out of happiness!!!!
Then started missing all of my old plush Muppet-y friends. And that was when I knew I needed to get out the needle-felting supplies. 

I'm hoping to needle-felt the whole gang. But the bust o' Kermit was my first attempt. I didn't have the right kind of green I needed for his skin, so I blended two colors together until I had an olive green, and a lime green for his collar.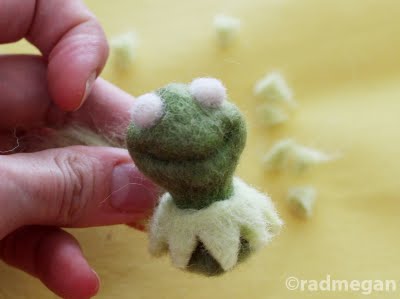 I kept working my needle, and looking at photos of Kermy until his familiar, loving face began to emerge from the piles of fluff.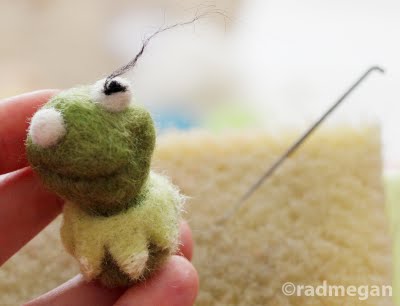 When I was done needle-felting, I was so happy to see my old friend, I took him outside to show him around… we stopped in the pumpkin patch for a while,
I taught him about Venus Fly Traps, and warned him not to get too close, 
And then we came back inside, and decided to put on a classic movie… in part, so we could both see old friends!
Hope you like my needle-felted Kermit the Frog! I'm so happy with him, that I've already started a second one- this time, his whole body! 
Who was your favorite Muppet? Who should I needle-felt next? Fozzie Bear? Beaker? Sweetums?