When I discovered the lil fish blog, I was immediately filled with hope. Life at that blog seems to be dotted with Aspen trees and wrapped in warm, hand-made mittens. It's comfy, inspiring and it helps me believe that someday I just MIGHT live on a big farm surrounded by similarly beautiful bits of nature. I like that blog. And it was on that blog that I first saw the tiny landscapes made by the talented Lisa Jordan.
I grew up fantasizing that I would turn into Thumbelina, so terrariums, miniature gardens, and wee little landscapes bring me RIGHT back to a place in my imagination where I can bathe in the dew of a tulip and sleep under the wing of a hummingbird. I wanted to try my hand at small needle-felted landscapes the second I saw the magic she made in hers. I immediately began looking for Thumbelina-sized containers to model my pieces into. Below are the results:


Housed in a walnut shell, this was my first needle-felted landscape.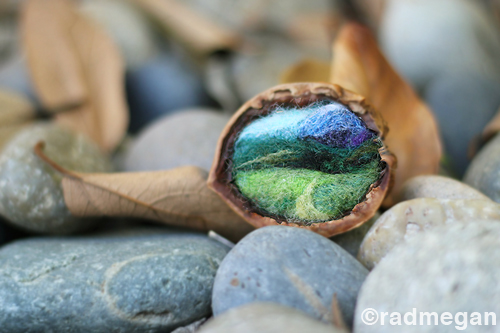 Followed by my second attempt in this broken, dried up old gourd.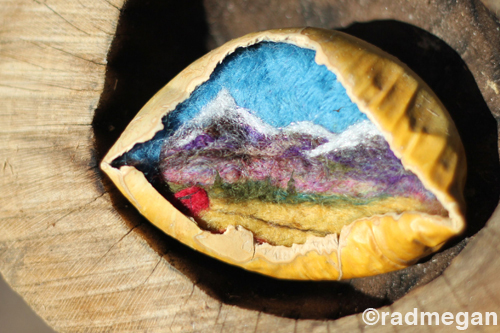 I used this seed pod for my third, and tiniest landscape.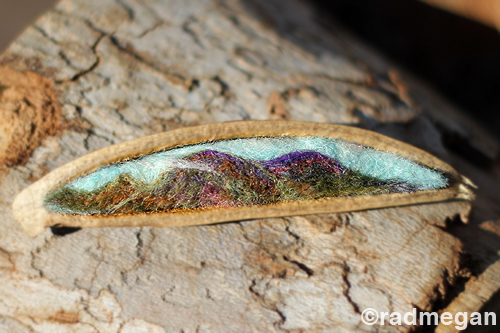 For inspiration, I used a couple pictures I'd taken during travels. Namely these: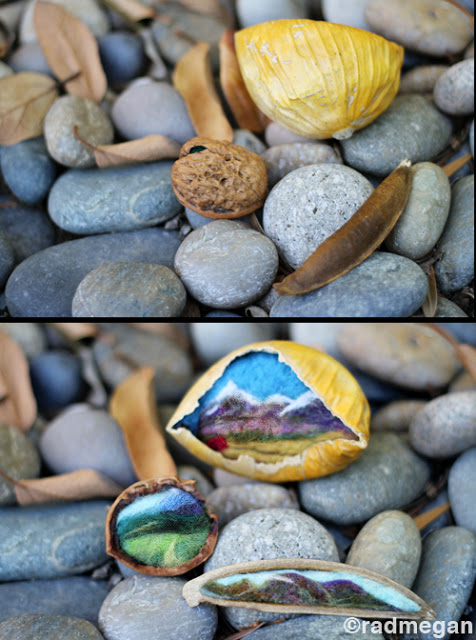 Whether they were successful as landscapes or not, they were fun to make. They reminded me of travels and re-connected me with natural materials.