Valentine's Day is just around the corner and one of the many things I look forward to at this time of year, is the excuse to serve anything red or pink to my husband. I'm normally not a girl who leans towards the "cutesy" or "frilly" but when I stumbled across this recipe for pomegranate soda on 
MarthaStewart.com
, I knew the deliciously pink drink would have to be sampled immediately!
Truth be told, I made this recipe for our New Years Eve celebration, and it was so good, that we've had it several times since that night. It's easy to whip up and really makes any week-night dinner feel like a special occasion.
Prep Time
: 5 minutes / Total Time
: 10 minutes / Yield
: Serves 8
Ingredients
1 cup sugar
1/2 cup pomegranate juice
Club soda, for serving
Maraschino cherries, for garnish (optional)
In a small saucepan, combine sugar and juice; bring to a boil over high, stirring until sugar has dissolved. Reduce to a simmer; cook, without stirring, until mixture is syrupy, about 2 minutes. 
Fill glasses with ice. Pour 2 tablespoons syrup in each glass, and top with club soda. Garnish with cherries.
I suggest serving this with a swizzle stick, because when the pomegranate juice is stirred up, it is just too pretty!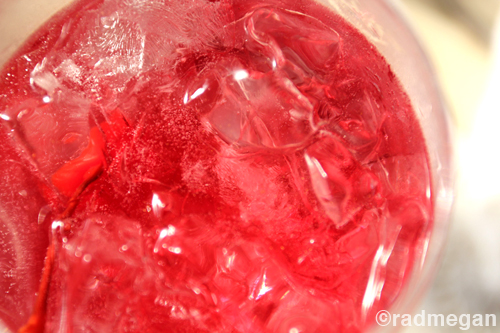 It's like romance in a glass, really!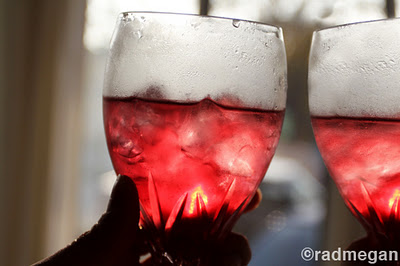 Ok, not really, but it's a sweet way to share a yummy pink drink with someone you love!
And note that to store the extra syrup (which is also AWESOME drizzled on vanilla ice cream, BY THE WAY), you can refrigerate it for up to 1 week in a sealed container. Enjoy!