This week was one of emotional highs and lows, extreme temperature shifts here in Los Angeles and the development of a nagging sore throat. So today, for lunch, I decided to make something that would burn away the scratchy throat, and help brighten the emotional (and actual) gray clouds over my head. And thus, "The Spicy Watermelon, a cure-all cocktail", was born.
It all started when my awesomely crafty friend

Jessica Wilson

(

jek

-a-

go

–

go

), came for a visit and brought with her a

rattlesnake watermelon

. I'm not much of a watermelon connoisseur, but this is by far the tastiest watermelon I've ever had the pleasure of meeting. I have been SAVORING it- nibbling sweet drippy bits every single day and sharing it only with my very favorite people. 
But today, I needed MORE from my melon, so I looked to the garden for help.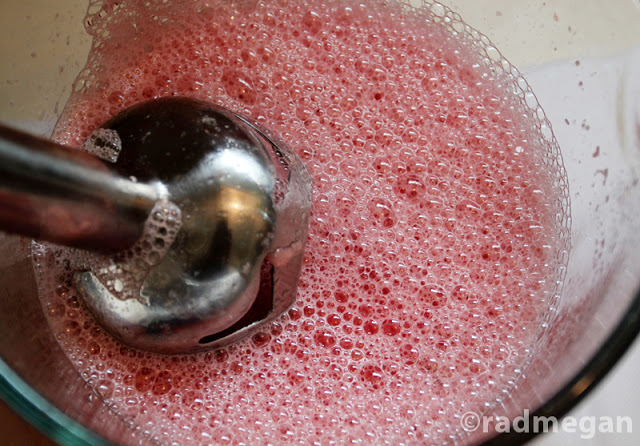 To make this Spicy Watermelon Cure-All, you will need:
2 Cups of fresh watermelon, cubed
Raw sugar for rimming glasses
I began by placing the melon into a bowl, and using my hand blender, liquefying it. Then, I sliced open the lime and juiced both halves into the same bowl. I pulled a large handful (about a cup) of cilantro from the garden, and then threw in the only Serrano chili my garden produced this year. I went ahead and blended everything together, reserving half of the chili at first, in case it was too spicy for me. With the scratchy throat however, the entire Serrano ended up in my cocktail. 
Next, I swept my lime rinds around the rim of a mason jar, pressed it into a small saucer of the raw sugar, added ice, and poured in myself a glass of the Spicy Watermelon Cocktail. For an ESPECIALLY rough week, I'd recommend adding a jigger of vodka to your glass at this point.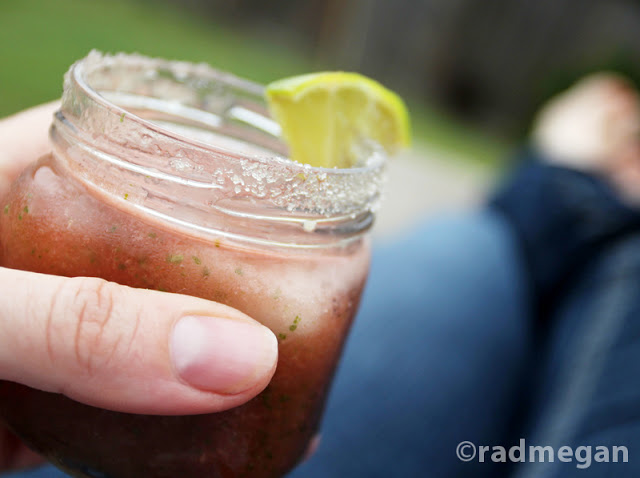 I took my cocktail outside into the grey, overcast light. It feels like autumn is just around the corner, but with this refreshingly spicy/sweet drink burning away my sore throat, and a good deal of my worries, it's easy to pretend that summer is still going strong.