Have you heard of Gjetost? Pronounced "Yay Toast," this brown, goat's milk cheese is so creamy, caramel-y, and fudge-like that it's pretty much the cheese all other cheeses wish they could be. Gjetost is Norwegian for "goat cheese" and when I was in Norway this summer, my relatives gave me and my husband a wheel of gjetost to nibble on during our travels. I'd eaten gjetost before- my grandmother used to love it, and there's a

brand

that my local supermarket SOMEtimes carries- but that cheese we ate in Norway was unreal; so fresh, so smooth, so hard to pry out of my hands!
We ate it for days while traveling around Norway and I insisted on packing it in my luggage when we flew to England for a week-long road-trip along the coast. As pictured above, I was the dutiful co-pilot ready with our map, diminishing wheel of gjetost and package of rye crisps. 
But I digress. Any back-story I have about this cheese is only to underscore my deep affection for it. So, I decided to look into making my own. And aside from one small detail, I pretty much nailed the recipe.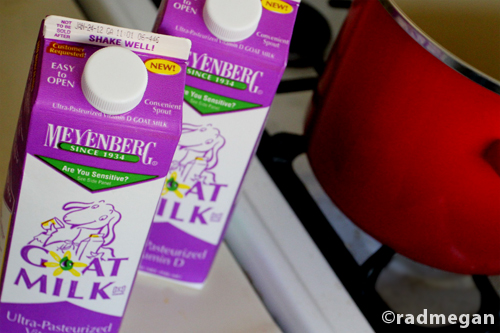 I read through several recipes, all of which said to simply boil down whey for hours and hours until it caramelizes and turns magically into gjetost. The only problem is that I have no idea where a person GETS whey. I'm not talking about whey powder, I mean the watery leftover stuff from cheese production. Curds and whey style… Since I couldn't find it at any of my local haunts, I boiled down 2 pints of full-fat goats milk instead of whey. You know what? It WORKED.

Yes, it took almost three hours of monitoring, scraping and stirring over medium-high heat, but as the milk grew more and more thick and golden in color, the smell became sweeter and sweeter! I left the lid OFF the pot, so that the liquid would reduce- but aside from that, there wasn't much to it! 
When the milk was sufficiently golden, I lined the lid of a butter dish with greased wax paper, and then poured the cheese mixture into it. I immediately cooled the butter dish in a bowl of ice water. I'd read that this would prevent the cheese from getting too grainy.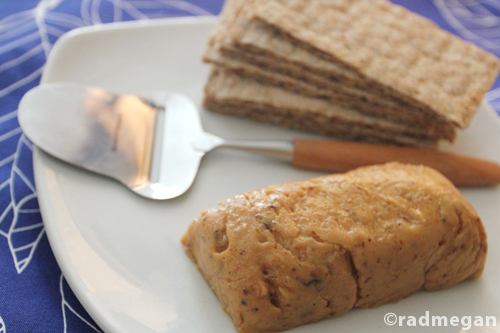 To be honest though, I don't mind a little grain. I've made two batches of this cheese now, and the little golden bits that scrape off the bottom of the pan, coupled with a touch of grain (in the batch I didn't quick-cool) just feel rustic to me. The taste is there. The aroma is there. And fresh off the stove-top, I couldn't resist slathering a rye cracker with my still-warm gjetost. 
If I ever run across whey, I'll pick some up and make another batch of gjetost to see if there's much of a difference in taste or texture, but in the meantime I am so happy to know that I can have a pot of milk on the stove in the morning, and be enjoying sweet, homemade goat cheese- as fresh as the stuff we gobbled up in Norway- by lunchtime! 
Oh and if you have never tasted gjetost before and are going to give it a try, I recommend it on rye crisp crackers or with apple slices.