You may already be aware of my fondness for Vikings. Today, I wanted to show their softer side, and I created some needle-felted Vikings.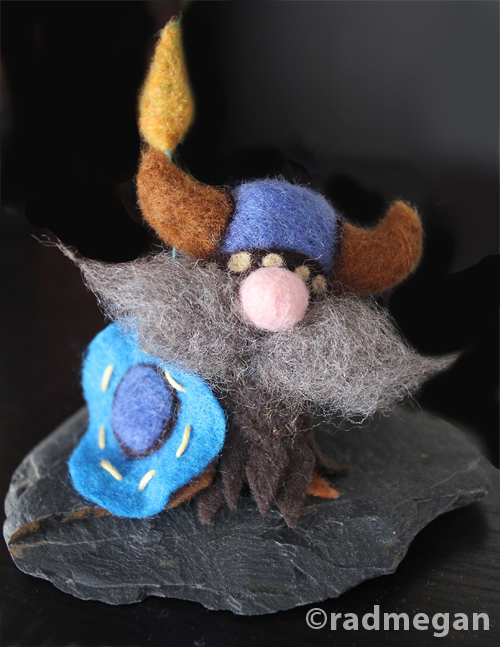 These little guys will end up being gifts for my aunts and uncles who are all of Scandinavian heritage. It's funny to me that such brutal warriors can look so adorable when made of wispy, wool fibers. And below, I show a few stages of the process I used to make them.
I started by making a helmet- perhaps the most easily identified piece of Viking attire. After creating the center dome, and needle felting two side horns that I then attached to the dome, I located some scrap felt pieces for the vikings  clothing. This helped me keep an eye on the overall scale of my project. 
Next, I created a little ball for the nose, and attached it to a handful of wool roving for the beard. This wool was barely worked with the needle- as I was going for a natural, flowing look.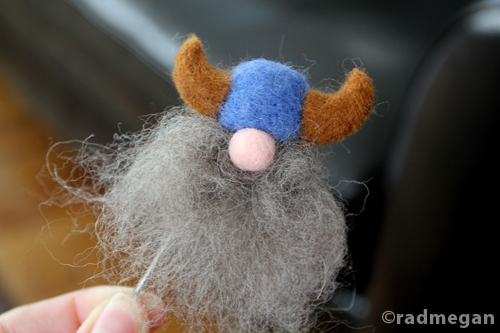 After attaching the nose and beard to the helmet, I decided it needed a few more embellishments.
I liked my Viking so much, that I got started on a few more. 
Once I had a small Viking clan, I sewed my felt fabric outfit to the base of the beard, and stuffed it with more roving so that it would remain stable and upright. 
I think my last little guy somewhat resembles the

Minnesota Vikings logo

…
Together, they made a mighty and powerful clan…
who abide loyally, to Viking law and long to cross the seas in an elaborate Viking ship!