Much to my dismay, I did not wake up in France the morning. 


I hadn't planned a trip there or anything, but last night I had a dream about a quaint French village, lined with brightly painted cottages and lush gardens. When I woke up to the sound of a leaf blower, siren AND a baby crying, I quickly realized that I was still in Los Angeles- NOT in a cottage in France- so I was grumbling about it. My husband (wide awake and ever the optimist) heard my complaints and thought I was planning breakfast: French Toast and Cottage Cheese?! While this was not my intention initially, it's as close to a French Cottage as I will get today.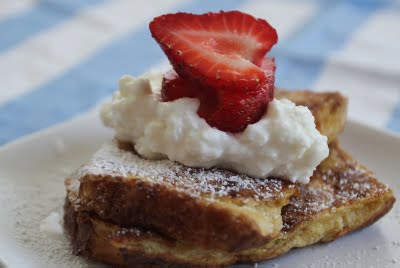 I'm sure everyone has their own french toast recipe. My

mom handed this down
 

to me,
 but every time I make it, 
it changes (just like mom's does
.) The batter includes: eggs, milk, cinnamon, vanilla. I *tend* to use the following measurements, but I've found that even when I get heavy-handed with one thing or another, things end up for the best.
Bread slices (French Bread, Challah, 
Hawaiian Bread,
 etc.)
I whisk all of the ingredients in a bowl and drop in a couple of slices of bread to soak up the batter. Then I get my skillet hot and buttered. I line the skillet with my battered bread, and let the pieces cook until they are golden brown on both sides.
I serve it with cottage cheese, fresh strawberries, powdered sugar, and real maple syrup.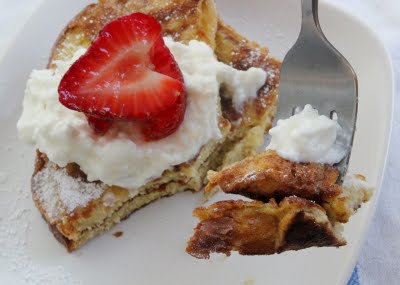 It's not like waking up in France, but it's not a bad way to start the day either!