A few weeks ago, I snipped some mint, lemon balm, rosemary and basil from my garden. I wanted a fragrant bouquet for the kitchen table. After a few days, I transferred the bouquet to individual bottles of water, (yes I still have a few bottles laying around even after

this project

)

and put them in my (North-facing) kitchen window to root.
Rooting herbs in water is a great way to share plants with friends, and keep your own collection thriving without spending a lot of money. A few years ago, while living in an apartment with only one small 2 x 4-foot patch of dirt, I grew an impressive herb garden with a handful of clippings from my mother.
When making your cuttings, be sure you get as much of the stem as possible (I usually keep 3-5 inches of stem.) Also, check the water levels in your bottles. If you have them sitting in a bright and sunny window, a lot of water is going to evaporate, and your developing roots may shrivel. Keep the water clean, and as full as possible.
I tend to use recycled bottles, jars or glasses to root my herbs, but you can also pick up pretty rooting vases like the lovely red one I got for Christmas this year (pictured above- and available here:)
I have been most successful rooting the following herbs in water:
basil
mint
lemon balm
rosemary
sage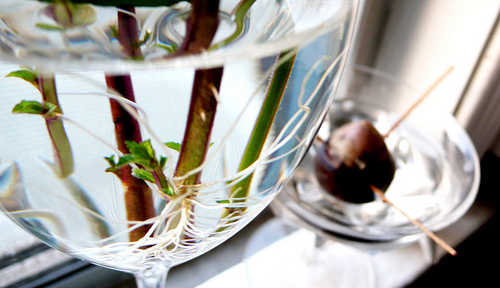 Once a large mass of roots has developed (after about 4+ weeks), you can transfer the plant to a pot of soil outside.
Not all herbs will begin rooting in water, but it never hurts to try if you've got a friend offering a few clippings! Happy gardening!!