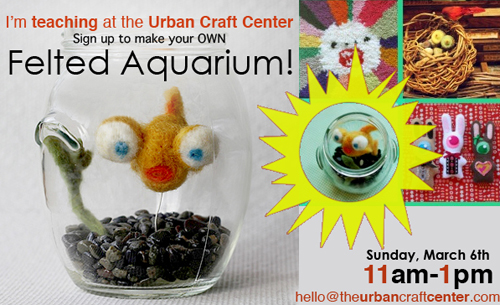 I am SO excited to be teaching my FIRST class at the 

Urban Craft Center

 on March 6th (a Sunday) from 11am-1pm. Sign up 

o

nline

, call this number (

310.392.0139

), or email this address: 

hello@theurbancraftcenter.com

 to sign up for my class! Space is limited, so HURRY! 
What you can expect: Learn to sculpt wool into three dimensional shapes with a single barbed needle, but beware – this craft is very addicting! Special guest teacher (Megan Andersen (That's me- radmegan!!) will show you how to create this adorable, wide eyed goldfish and aquatic plant. Finally, you'll put together your finished pieces in a mini glass jar aquarium to display at home. 
Teaching philosophy: "I believe the children ARE our future. Teach them well and let THEM lead the way."
Provided: All the materials you will need to make your very own felted goldfish aquarium, plus Band-Aids for any needle-related owies, and gold-star stickers for students who do an extra good job. Is there anything more encouraging than  a sticker from a teacher??
Cost: $35 non-member, 15% discount for members
Why: If you've ever wanted a pet, but have separation anxiety issues (a felt pet can't die and won't leave you), have ever wanted to write a teacher messages on your eyelids like in 

Raiders of the Lost Ark

 (I welcome all eyelid-written comments, questions, and encouraging words) or, have always hoped that you would receive a gold-star sticker from ME while in Santa Monica (I have the stickers in my hand RIGHT NOW), this class can make all of your hopes and dreams come true. 
I hope to see you on March 6th!