I've had six empty glass Coke bottles sitting on my kitchen counter since late last summer. Every time my husband suggested that they get recycled, thrown out, or just moved
off
 the counter, I would tell him that I was RIGHT in the middle of a craft that required those six glass bottles to be on the kitchen counter, and that I just needed another week. Just oooooone more week. 
When the mister and I left for a quick weekend get-away and returned to wilted vegetable seedlings and limp bulb stalks, I finally figured out how to use my bottles: Watering "Globes" for my garden!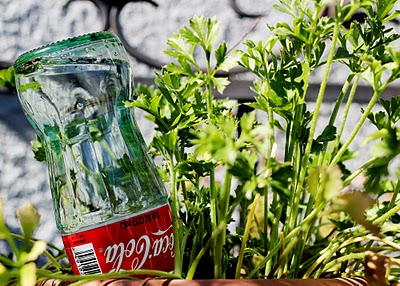 It's not glamorous, but recycled bottles work JUST as well as 

Aqua Globes
only they are free. To make your own recycled bottle watering "globe," take an empty glass bottle, fill it with water, and slam it down into moist soil! If you see bubbles rapidly forming, or the water level changing at ALL, the bottle-mouth may not have sealed against the soil, so pull the bottle out, re-fill it, and try it again. 
Out of six bottles I filled and jammed into my potted plants, one of them needed to be re-filled and re-stuck into the dirt. This seems to work best when the soil is already damp, so water before you go out of town, and then add the water bottles to the planters. And since they *are* glass, be careful when you are pushing the bottles into the soil. If the soil is hard, or there are loads of rocks in your medium, there's a chance the bottle could break, so consider using heavy work gloves if you are concerned.
And if y
ou have an extremely thirsty plant, or are going to be gone longer than a few days, use a 
Martinelli's
 or wine bottle- the bigger the bottle, the deeper drink your plants will get.