I always thought that kale was grown and harvested to be used as garnish and garnish alone. I had no idea that people ate it. We never ate it growing up. I only ever encountered it underneath my "real food" when I went out to eat. Fish tacos look sooooo inviting on a bed of stiff and waxy green kale. But this year, I (permanently) borrowed the juicer at my in-law's house while they were out of town, and while looking for juice recipes I noticed that several listed kale as an incredible source of iron, beta carotene and Vitamins K and C. The more I read about kale, the more I wanted to be friends with it. 
I was chatting with some friends about my
stolen
borrowed juicer, and they told me to try baked kale chips
immediately
. Like, leave this conversation, skip the juicer, and for the love of all things tasty, go and bake some kale chips, woman! 
Armed with their confidence, my quickly developing love for this cousin of cabbage, and a little online research, I found it: The world's easiest baked kale recipe. I baked my own kale chips that evening, and have made several more batches since then. I had no idea a vegetable could taste so much like a tortilla chip and still be really super good for you.
Without further hesitation, here's the ridiculously easy recipe: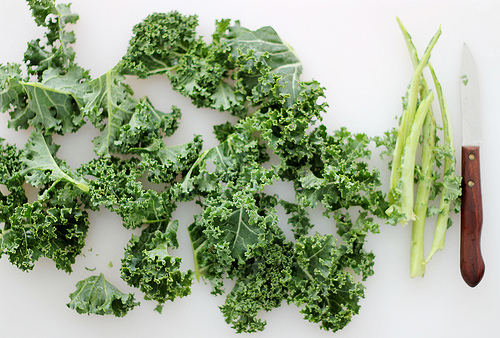 Preheat oven to 350 degrees F  
Wash and dry the kale. With a knife, remove the leaves from their stems and tear the leaves into pieces. Place the kale pieces in a large zip-seal bag. Add olive oil, sprinkle in the sea salt, and shake to coat completely. Toss the pieces of oiled, and salted kale onto a baking sheet. Bake 10-15 minutes until the edges brown but are not burnt.
They are so, so, so good. Salty, crunchy, and completely guilt-free! And while not as sturdy as tortilla chips, they taste INCREDIBLE with homemade guacamole delicately spooned onto them.