Being reminded that I am loved and appreciated is just about the quickest way to make my day. I was thinking about Valentine's Day, and how it's become *the* day when we all look our partners-in-crime in-the-face and say, "Hey, thanks for being awesome, I really really love you."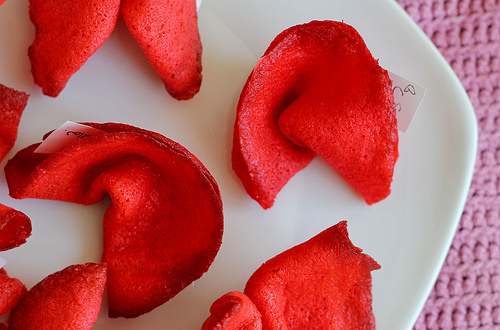 In an entire year, I need more than just one day devoted to love, and I certainly am a girl who appreciates a compliment. And is there a better way to get compliments, than by writing your own? These "Cupid's" fortune cookies are indeed tasty, cute and easy to make, but they are also a terrific way to tell your loved ones, and tell yourself that you are pretty darn fantastic. Oh and when that message comes wrapped in a cookie? All the better!
Writing up the fortunes is the first part of the fun. My little notes ranged in sentiment from things like, "You make your family proud," and "People like you for you," to "Have you lost weight? Your butt looks sensational," and "You have the best hair, your friends are all jealous." I used a single sheet of sketch book paper and filled it with thoughts, hopes, and predictions that would be appropriate for me, my husband and the the handful of friends who drop in for surprise visits.
Once I cut out all of my papers to about the same size (approximately 1/2 inch by 2 inches) I started working on the cookie batter.
1/8 teaspoon vanilla extract
1 pinch salt
1/4 cup unbleached all-purpose flour
1/4 cup white sugar
Red food coloring

Preheat oven to 400 degrees F. Generously grease 2 cookie sheets.
Mix the egg white and vanilla until foamy but not stiff. Sift and blend the flour, salt, and sugar into the egg white mixture. I started out with plain cookies, and gradually added more and more red coloring to the batter as I baked, so that I ended up with a nice assortment of white, pink and reds for my "any time" Valentine's cookie batter.
Place teaspoonfuls of the batter at least 4 inches apart on one of the prepared cookie sheets. Spread batter into thin circles with your fingertip. Carefully make the batter as round and even as possible. Do not make too many at once, because the cookies have to be SUPER hot in order to form them- and once they cool, they will start cracking. Start with 2 or 3 to a sheet.
Bake for 5 minutes or until the cookies have a golden outer edge. The center will remain pale. While one sheet is baking, prepare the next.
Remove from the oven and, with a wide spatula, place the cookies upside down on a wooden board. Quickly place the fortunes on the cookies, close to the middle and fold the cookie in half. 
Place the folded edge across the rim of a measuring cup and pull the corners down on both sides of the rim.
Place folded cookies into the cups of a muffin tin to hold their shape until they harden completely. Recipe yields 8-10 cookies
I noticed that the first few cookies I made had a wrinkly/cracked look to them. I think I was trying to make too many cookies at once and was making them too thin. By the time I got to my all-red batter, I had the proper thickness, quantity (no more than 2 baking at a time for me) as well as the proper spatula-scooping skills to get a smooth, almost restaurant-quality cookie. The prep time is so quick, and the ingredients so few, that I could have easily made another batch of cookies to continue honing my cookie-folding skills. 
These really do make a terrific and cheap Valentine's Day card AND gift! If you know someone who needs a little pick-me-up, or just have someone special you want to share Valentine's Day with, I highly recommend these homemade fortune cookies!