I love
pop-up cards
.

Paper that moves

feels magical to me. I have a little collection of pop-up books that my nieces and nephews always run to as soon as they visit, so I don't think I'm alone in my love for paper that pops.
Assembling pop-ups can be challenging since there is often so much precision required. I wanted to find an easy-to-make pop-up card that would look cute, take very little time to make, and would be uncomplicated enough that children could enjoy making it. After looking at some of the books on my shelf, I found a design that I could modify and make into a simple heart pop-up card. This is what I came up with:
To make this card you will need the following:

Heavy stock paper (1 sheet)
Lightweight paper of a different color (1 sheet)
A pencil
A pair of scissors
Glue stick
Colored markers
Glitter, stickers etc..

To begin the pop-up card, fold your heavy card stock in half. Run your thumbnail down the fold. This will be the spine of your card, so you want it to have a crisp edge. On the folded edge, draw half of a heart shape in pencil. Now draw a horizontal line halfway through your heart and across the length of the card. Erase the horizontal line from within the heart. You should be left with a shape like this:
Next, cut along your pencil line. Half of the heart will be taller than the rest of the card. If you erased all of the pencil within your heart, lightly re-draw the rest of the heart half, like this:
Fold the half-heart along that pencil line, and crease with your thumb nail. Turn the card over, and fold the heart in the opposite direction along the same crease line.
Now open your card slightly and push the heart shape down inside of the card. Since you folded both sides, the heart should fold up nicely into the card as seen here:
Crease the spine of the card with your thumbnail once again for extra stability.
Now when you open your card, a heart should pop up from the center!
Next, take your lightweight paper, and cut out a heart that is smaller than your pop-up heart. With your glue stick, paste the smaller heart down in the center of the larger heart. It may help to fold your smaller heart in half first.
Now your pop up card is ready to decorate!
Don't forget to add a special message to the outside of your card before giving it to someone you love!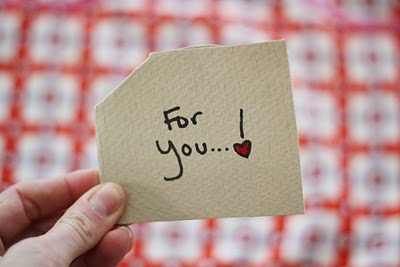 Hope you enjoy this quick and easy pop-up Valentine's Day card!