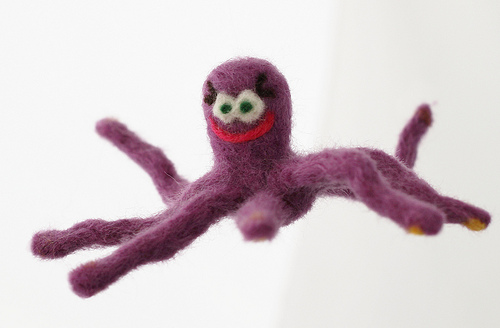 It's Friday, which means it's last day of Five days of Felted Friends. Today's creature was suggested by a reader. Thank you reader! Felting the octopus was fairly straightforward. I started with a purple ball for the body, and for the tentacles, I used the same "dreadlocking" technique I used when felting the baby elephant's trunk.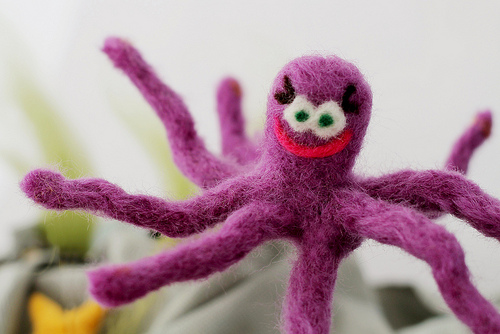 After adding some eyes, lashes, and a big grin I knew my crafted cephalopod needed a home. The felted owl, sloth, elephant, and bluebirds, could all live on land, but like the felted goldfish, the octopus needed an underwater abode. After getting out the tri-pod, staging an underwater scene in my light box, and taking over 200 photos that were whittled down to just 75 still images, I imported them into iMovie, and the rest is history. I hope you will enjoy the video below. I'd love to hear what you think of it. Like a flip-book (and the ocean!) it's a bit choppy, still I can't help but smile when I think about the adventures Mr. Octo might be having while my back is turned.


Thanks again to everyone for reading, and for the suggestions you sent me!
I will be doing more felting in the future. If you would like a custom felted friend, please let me know. Custom animals would start at $25+. If interested, please contact me at megan(at)radmegan.com

Thanks again for reading. Happy Friday, and happy felting!