While I've been really trying to keep an eye on my pennies this season, I'm hoping Christmas isn't going to FEEL like a budget Christmas. Yes, my overall spending had to be
way
down this year, but I didn't want to become the girl who made everything from scratch whether you wanted it or not. Picture Christmas morning… sitting around the giant tree at my parent's house. Fire crackling in the hearth, dad sipping hot tea while mom strokes her pug dog who snoring on an heirloom quilt next to her. I turn to my sister, "Hey sis, remember that iPod I got you last year? I thought
this year
you could really use a set of tongue depressors I painted BY HAND. They even have glitter on them. You're welcome." 
It hasn't gotten to that point yet, but as I look over the gifts I've wrapped up, the packages are a bit smaller than in previous years. When I give a gift, I really want it to be an event. "Dude, I'm getting you this because I think you will LA LA LA LOVE it!!!" So while assessing the wee pile of wee gifts for a certain someone yesterday, I was starting to feel like I needed to tie them all together in a stocking made of tongue depressors. Just kidding. A stocking made of… a paper grocery bag.

Here's why this is a GOOD idea:
– You can use up LOTS of the colorful mail-order catalogs you have lying around. I get SO many of these things each year, despite removing myself from many a mailing list. The paper is bright, glossy, and slicing the pages up, frees you from the temptation of buying the wares they are hocking.
– It's a way nicer presentation than showing up to someone's house and handing them a brown paper bag of gifts. Oh great, I brought the wrong brown paper bag? Well, enjoy the paper towels, carrots, and milk I bought you.
– It's pretty quick. Cut out two stocking shapes from one grocery bag, iron them flat, and paste the chopped up catalogue pages around the corners, sew the pieces together, and trim with pinking shears. Make a stocking top out of a white paper bag by cutting, gluing, and sewing it down, and then add a name. 
– Your precious fabric stash remains untouched.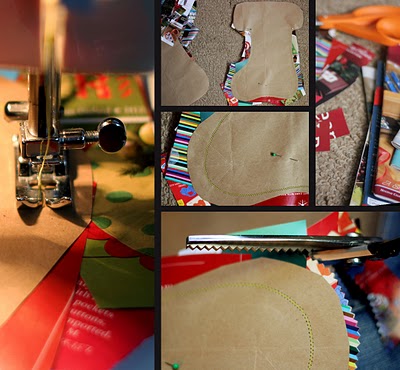 And for the record, my sister and I *did* paint and glitter tongue depressors one year and hand them out as bookmarks. While they were not a hit with everyone, we loved them and kept them for many years.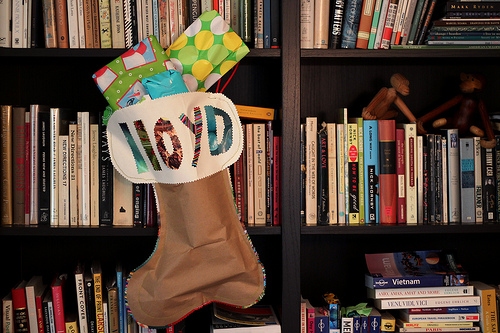 Happy holidays!
xo,
radmegan