You know how sometimes you go to Target for shampoo and come home with a set of bath towels and a new bike?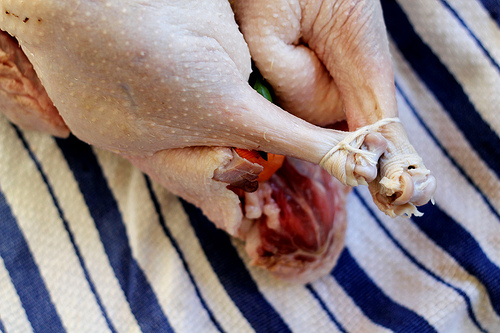 I went to the

Farmers Market on Fairfax

looking for, what? Oh I don't know, seasonal fruits, some fancy salts or maybe a fresh baguette. Instead I brought home a big fat goose. I was there with my friend

Farrah

, who marveled at the enthusiasm with which I handed over a fistful of bills in exchange for my organic, free-range, young fowl. Having no idea what to do with such a bird, I turned to my favorite Frenchman,

Jacques Pépin

.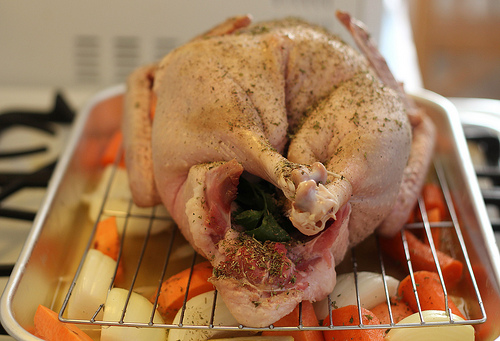 Here's what I learned about roasting goose. It might help you decide whether or not you would like to embark on such a feat. It's not that scary if you have a roasting pan and a meat thermometer, it just takes a lot of time, and a little research. The neck-flap is crazy long, and there is no meat on the super lanky wings. I covered my bird loosely with foil for the first hour of roasting, and then basted it every 30 minutes or so, cooking it uncovered to get a nice crispy skin. I would roast another bird in the future, but might try it in one of those turkey-roasting bags to keep it extra moist. I found that the thigh meat on our goose was really moist, but the breast had dried out some. And, there's really no white meat on a young goose. Surprise! No wonder the meat is so flavorful. It's richer than chicken and turkey and has a slightly nutty undertone- almost gamey. Also, for the love of all things holy, please save the goose fat in the pan when you have completed the roasting. Then, cook everything in that fat. Cook potatoes, squash, green beans, root vegetables, anything, and everything. Goose fat will make it awesome. I may even hand out jars of goose fat as Christmas presents.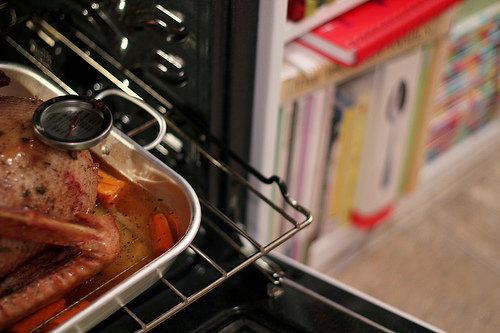 The key to this recipe is starting it yesterday. I have read time and time again that you want to dry out your bird overnight. That said, turn your time machine to Sunday, and let's begin. Here's the recipe I used (with slight modifications which may have lead to my bird being slightly dry, but still wholly delicious.) Good luck!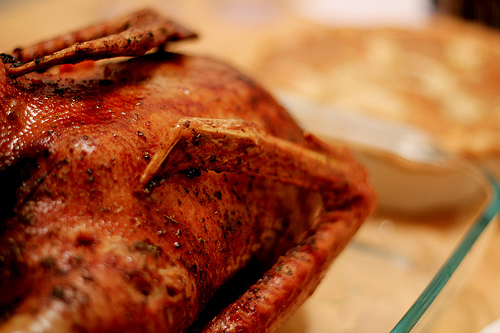 Ingredients (Serves 6)

Active Time: 30 min; 
Total: 3 hr 20 min + overnight drying

1 One 12-pound goose, neck and giblets reserved, visible fat removed 
Salt and freshly ground pepper

4 ¼ cups warm water
1 ½ tablespoons honey

1 teaspoon Tabasco

1 teaspoon potato starch dissolved in 2 tablespoons red or white wine (Except, I couldn't find potato starch, so I skipped it and used a little flour.)



Beginning at the neck end, work your fingers under the goose skin, snipping any fibers and sinews with kitchen scissors; work your fingers as far down over the thighs as possible. Using a sharp knife, cut halfway through the wing and leg joints to help the bird cook evenly. Generously season the goose inside and out with salt and pepper.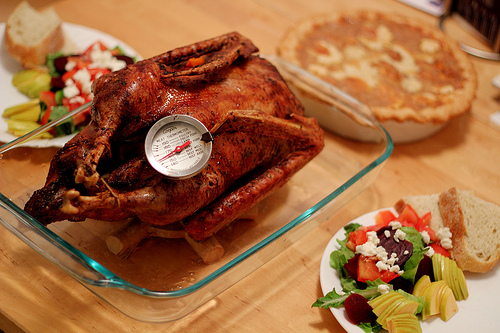 Set the goose on a rack in a heavy roasting pan, breast side up. Add the neck, gizzard, and heart and 4 cups of the water to the pan. Cover the goose with foil and seal the foil all around the edge of the pan. Bring the water to a boil. Reduce the heat to low and steam for 45 minutes. Remove from the heat and let cool. Transfer the rack with the goose to a rimmed baking sheet and refrigerate uncovered overnight, until the skin is very dry, like parchment. Strain the pan juices and refrigerate. Bring the goose to room temperature before roasting.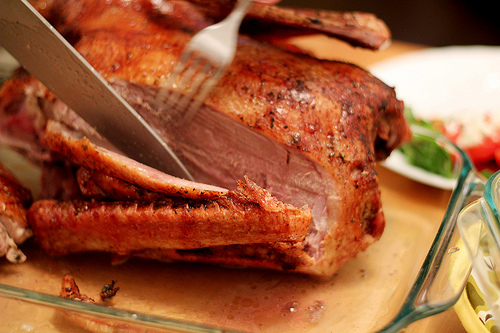 Preheat the oven to 350 degrees. In a bowl, mix the honey with the Tabasco and the remaining ¼ cup of water. Return the rack to the pan and roast the goose for 1 hour, basting occasionally with the Tabasco mixture. Carefully turn the goose breast side down. Roast for about 30 minutes longer, basting occasionally. The bird is done when an instant-read thermometer inserted in the inner thigh registers 170 degrees. Turn off the oven and let it cool to 160 degrees. Transfer the goose to a heatproof platter, breast side up. Return the goose to the oven and let it rest for 20 minutes. Pour off the fat in the roasting pan. Scrape the solidified fat off the refrigerated pan juices and refrigerate for another use. Add the juices to the pan and bring to a boil, scraping up any browned bits on the bottom. Pour the juices into a small saucepan. Stir in the potato starch slurry and simmer, stirring, until slightly thickened, about 1 minute. Season the jus with salt and pepper and strain it into a gravy boat. Carve the goose and pass the jus at the table.
I'm leaving you Jacques' bio, by the way because A.) this is his recipe, and B.) I just love him so darn much, and find his story about the Christmas goose and oranges endearing. 
By Master Cook: Jacques Pépin When I was growing up in France, the only time I remember ever having goose was on Christmas Eve. For that reason, I always associate goose with other traditional holiday foods: chestnuts, oysters, foie gras, bûche de Noël and oranges. (Yes, oranges, which were a delicacy imported from North Africa only at Christmastime.) Goose is now sold year-round but about 75 percent is prepared during the holidays. You can buy fresh birds, but most of the geese at stores are (or were at one time) frozen. I've had wonderful luck cooking thawed geese, which are young and quite tender.