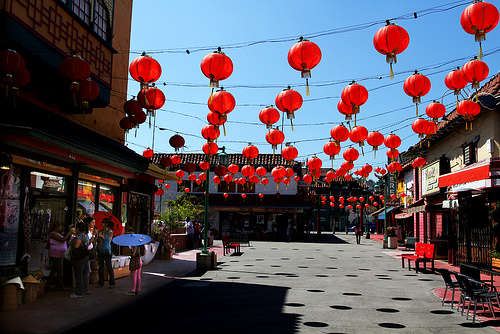 For the first, and perhaps only installment of "Eaker and Read Eat It: A food journey through unemployment," my dear friend (Eaker) and I headed to Chinatown for Dim sum.
Being relatively new to Los Angeles, I've not spent much time in
Chinatown
. The first thing I noticed when we arrived was the color. Flaming red lanterns bob lightly above courtyards, deep green columns topped with golden detailing line the streets, three small children twirling pink parasols wandered in front of us, and two bronze serpentine dragons are frozen in mock battle overhead. 
We park in the structure, and walk down a sea foam green stairwell in the Chinatown Bamboo Plaza. It's after the lunch rush, coming up on 3pm, and
Empress Pavilion
is packed on a Thursday in late August.
We are seated and before our napkins hit our laps, metal carts filled with steamed and fried dumplings, mountains of vegetables, and bubbling cauldrons of fragrant liquids are creating a traffic jam at our table. Some things we ask for by name, mostly though, we just point and nod. And keep pointing, and keep nodding. Our table rapidly fills up with small plates of deliciousness.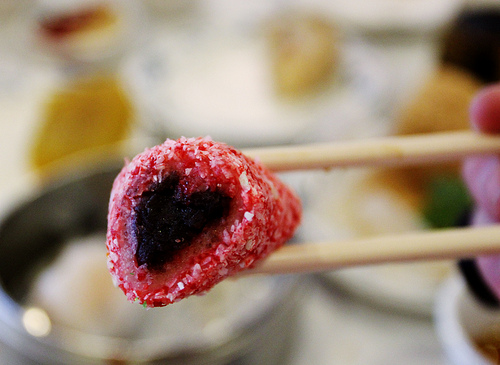 Dim sum, meaning "heart's delight" in Chinese, is traditionally an array of small plates of food served up with aromatic teas. While we passed on the pile of pallid chicken feet, we were seduced by the alluring green hue of the fried and gelatinous water chestnut cake, the crispy fried almost Muppet-looking taro and beef dumplings, delicate sunshine yellow egg custards, the soft blanket of beef rice noodles, steamed baskets of Har gow bonnets (steamed shrimp dumplings), and the unnaturally bright red bean and custards filled sweets. It was entirely too much food, but we did indeed delight our hearts and stomachs as we chatted, watched the silver blur of food carts zoom by, and the room slowly begin to empty.
After leaving the parade of small plates behind us at Empress Pavilion, we walked through the streets of Chinatown absorbing the hot afternoon sunlight. Shop owners would politely greet us as we absentmindedly moved past tables and booths of bright silk clothing, $5 shoes, bubbling aquarium tanks of live catfish and crabs, and bins upon bins of jewelry, ginseng, and cookware.
The heat was slowing us to a crawl, so we headed to another Chinatown landmark:
Philippe's
for 75-cent lemonades. I will save my review of this sawdust carpeted, neon birthplace for the dipped meat sandwich for another day. Today I will just say that the lemonade was life giving, and I am sure to be back for more from Philippe's. And for that matter, look forward to many more visits to
Chinatown
.