As a transplant, I'm still learning to love Los Angeles. The art, food, and music are as invigorating as the smog, crime, and traffic is exhausting. LA residents spend more time stuck in traffic than any drivers in the nation, so a bright orange, polka dot, or hot pink "roach coach" is bound to catch your eye at some point.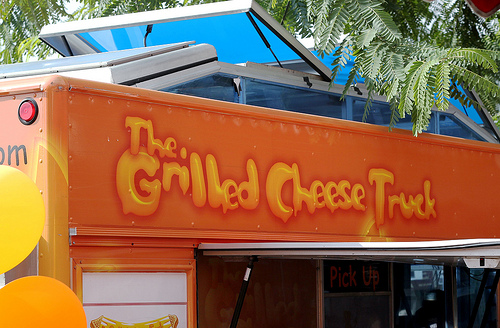 I moved to Los Angeles in July of 2009, and as soon as I got my Internet connection set up, a sister-in-law in Utah sent me an article about The Grilled Cheese Truck. That very same sis-in-law came to visit this weekend with her lovely foodie daughter, so we donned our loose-fitting pants in preparation for a food truck investigation a year and change in the making.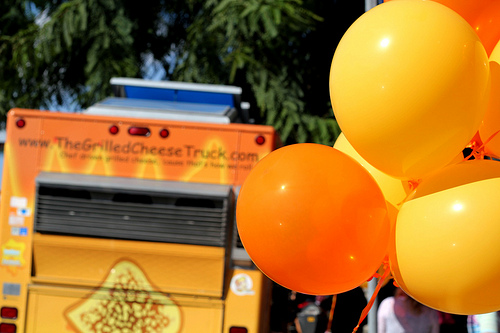 We found the Saturday location online, and arrived a few minutes early. There were bright orange and yellow balloons saving a parking spot for the beloved truck, and a crowd was already forming. By the time we parked and made our way across the street, the orange truck had arrived and so had a line of at least 25 people. We grabbed a menu and scurried over to secure our spot. The crowd was mix of ages, races and income levels with one glaring commonality; a great love for a grilled cheese.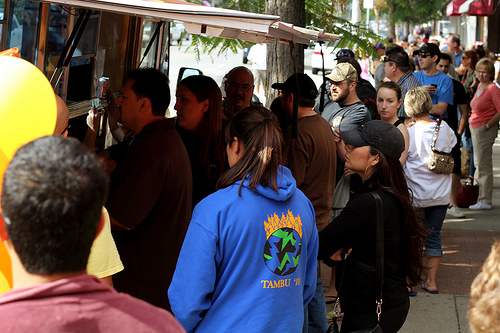 When we got to the front of the line and looked back, it was a sea of people. What had begun as a line of 25-hungry patrons was now at least 150-long and still growing. 

After careful consideration, our order included the following: A Cheesy Mac Melt with caramelized onions and rib meat (known as the "Fully Loaded"), a Brie Melt with double cream Brie, sliced pears, honey and turkey, and served on cranberry and walnut bread, a Dessert Melt made with peanut butter, marshmallow, and Nutella served on sweet brioche bread. We also ordered a serving of the Tater Tots, Daily dipping sauce (a bacon aioli), and side of pickles. 

The melt sandwiches were otherworldly. Immediately we began bartering bites off of one another. Each melt was it's own brand of magic.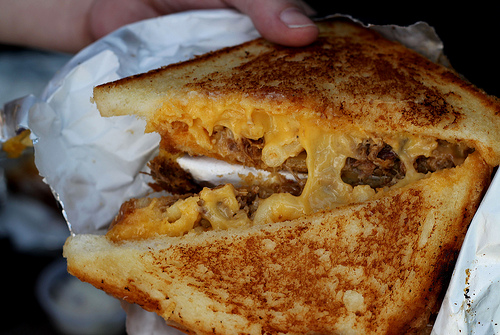 The mac n cheese with onions and rib meat had a traditional grilled cheese taste, with the tang of barbecued meat and the sweetness of slow-coked onions. I enjoyed the traditional use of sharp cheddar, and brilliant union of elbow noodles. It was like mom's best cheese-based comfort food's met dad's perfect Sunday BBQ at a party, and this was their love child.


My order was the Brie melt and all it's gooey gloriousness. I liked the idea of a little protein and fruit making a cameo in my all-cheese-all-the-time diet, and the payoff was blockbuster. The melted Brie complemented the smokiness of the turkey while the subtle honey, pears, and cranberries left me with a familiar suggestion of Thanksgiving dinner minus the sky-high stack of dirty dishes.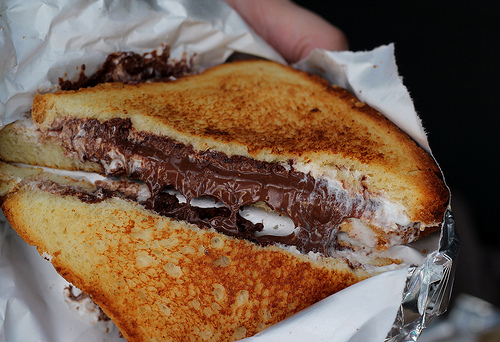 For me, the dessert melt was too much of a good thing. I love Nutella, I love peanut butter, and god help me I love marshmallows, but intermingle under fried brioche, and the sticky concoction was more melt than I could manage. Just one bite was enough to conclude my mobile melty-course meal. 

On the whole, the Grilled Cheese Truck experience was well worth $30+ dollars and hour-long wait we spent. The line was orderly, the food was mouth-watering, and the experience was unlike any I had had before. Growing up, I never thought to order lunch from a curbside truck, let alone snap photos, and discuss menu items ad nauseam. The current food truck trend is exciting for an outsider like me. With so many thought-provoking options ranging from the ultra gourmet to traditional street-authentic, partaking in the food truck phenomena made me feel a little less like a transplants, and a little more at home in LA. Thanks for your hospitality and so-worth-it carbs, Grill Cheese Truck!