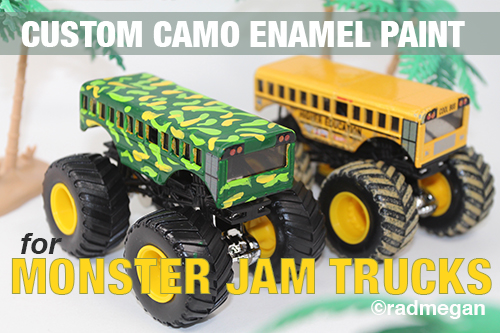 I have a toddler-aged son. A son who LOVES monster trucks. To be fair, who doesn't love them? We've got quite a few of the Hot Wheels brand Monster Jam monster trucks at home and after discovering that these toys are often cheaper when you buy a 4-pack of unspecified trucks, we've ended up with a couple of duplicates, (and a couple that were "too spooky" for my tender boy.) As I mentioned yesterday, the good people at Testors sent me a box of enamel paints to play with, so I decided to give one of the monster trucks a custom paint job. My son and I were SUPER pleased with the results. And p.s. moms and dads, you need no real painting skills for this camo paint job – if you can make a "squiggle" you've totally got this. Read on for the process!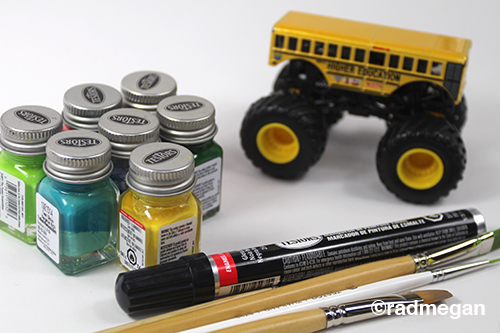 When I began, I wasn't QUITE sure which direction I wanted to go with the custom paint job, but my crafting time is sadly limited these days, so I needed it to be pretty quick. No recreations of the Sistine Chapel or Starry Starry Night THIS TIME.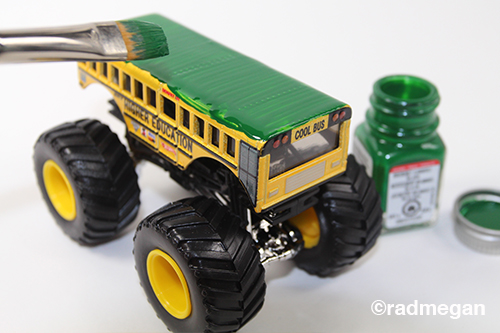 I began with medium-wide paint brush and a base coat of Fl. Beret Green.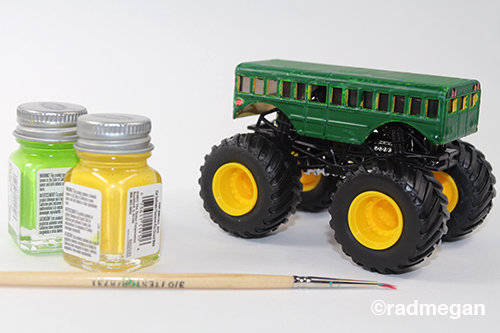 I coated the entire bus (except for the windows, tires and all important stop sign on the side of the vehicle.)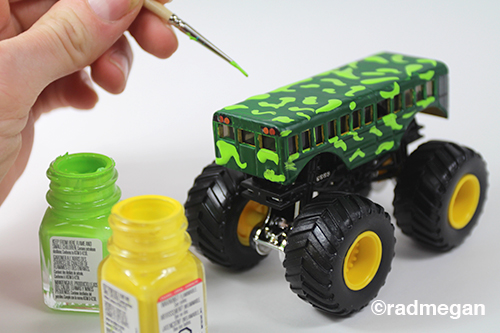 Next, I used Sublime Green and a fine-tipped paint brush to make squiggles all over the bus.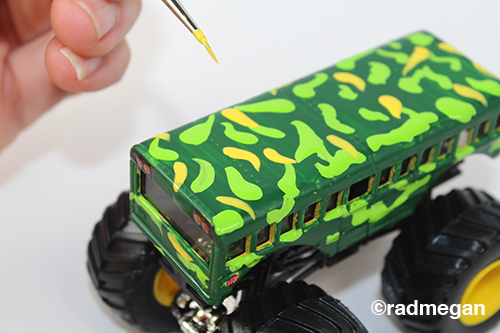 After allowing the lime green paint to dry a little, I added Flat Sunflower yellow squiggles.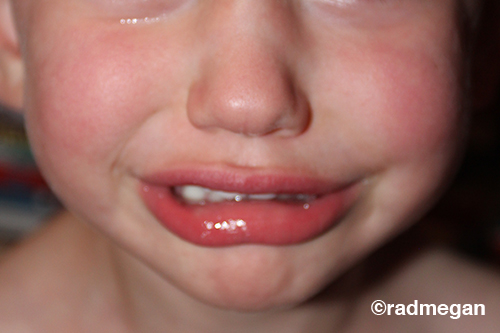 I made the rookie mistake of letting my almost three year old SEE the monster truck before the paint was dry. BAD MOVE. Very bad. So many tears.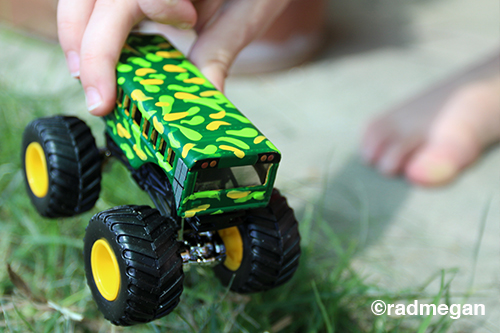 Once the enamel paint had dried on the entire monster truck, and my boy had "earned" the truck with a specific potty training milestone, he was given his new custom camo monster truck, and all was right with the word.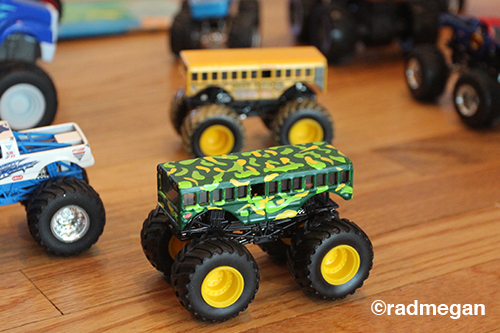 We love the Hot Wheels Monster trucks, and I SUPER love that we can paint over anything deemed too "creepy" or "spooky" by my tiny dictator (sorry, Gravedigger!) with Testors enamel paint. I'm tempted to give all of my son's toys a make-over the next time he decides to take a nap… if that ever happens again.