Happy Valentine's Day! Whether you have a special someone or not, I think flowers brighten everyone's day, so I wanted to share a simple craft to make a teeny tiny bouquet of flowers from a few sewing and crafting materials you probably already have!
Materials needed for this craft are:
A dozen glass head straight pins
Measure out one half inch strips and gently slice with the X-Acto knife. Fold the slices in half, lengthwise, so that the metallic underside is covered. 
Gently dip the top of the glass head pins into the Tacky glue. Starting at one end, wrap the head of the pin with the full strip of foil paper. 
Pinch the base of the foil bud with your fingernails to secure the flower and to add detail.
As each strip of foil paper gets wrapped around the pin, stick them into the roll of painters tape to dry.
Cut small strips of the green painters tape on the cutting mat. Attach the tape to the edge of the pin, and overlapping the base of the foil flower.
Starting at the base of the foil rose, begin to twist the tape.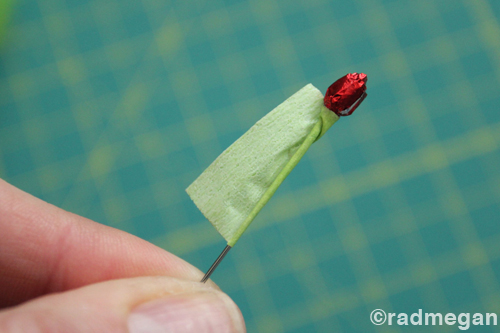 Continue with at least a dozen pins and then set aside.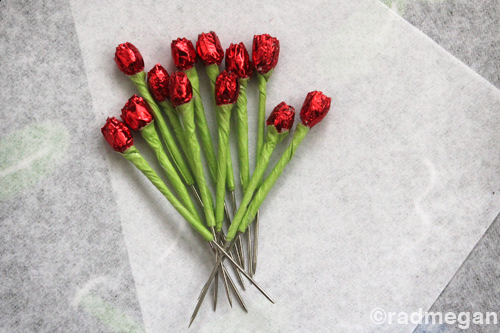 To display your bouquet of rose pins, poke them into the top of a cork.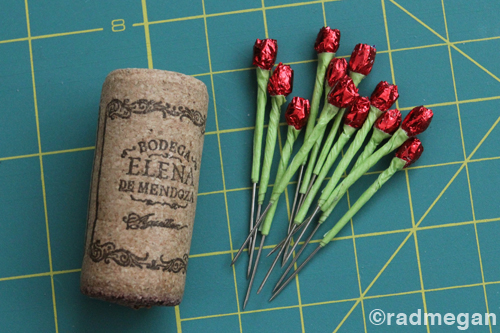 Then, place the cork in a clear shot glass. Use the dried moss to hide the cork and add a more natural look.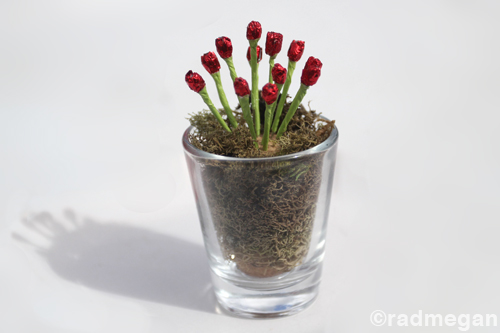 When you're done, give it to your favorite crafter or keep it for yourself! It works just as well as a pin cushion as it does as a little Valentine's bouquet!