Thanks so so much to everyone who participated in the stuffed stocking give-away!
The grand prize winner of the stocking, lucet, needle-felted Christmas garland, ornament and yarn is:
Katie said…
I really want that fork! I'm following on Twitter now too.
Congrats Katie! Send me an email at megan at radmegan dot com with your mailing address- and thank you so much for following my blog


——————————————————————————
Winner of the Needle-Felted Santa is: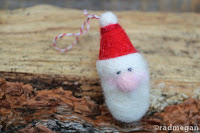 Cassandra of Pooknflip said…
I shared your giveaway on my FB page! http://www.facebook.com/PooknflipProductions
Yay Cassandra! I appreciate you reading and following! Please send me your address as well!! Merry Christmas!
——————————————————————————
And winner of one needle-felted elf ornament is:
Allison said…
Not sure if your giveaway is available to overseas followers (I'm in Australia) but hey, if not, no biggie, am happy just to share the love!!
So, have worked my way through your list and:
already follow your blog and subscribe to emails (so big check there!)
liked you on Facey 
followed you on Twitter (for verification my name there is Narrabrite and my profile pic is a piglet that I hand reared!!)
I'm pretty sure that I added you to my circle on Etsy – am pretty new to it – but again am Narrabrite
I tweeted about the competition and tagged you in the tweet so you could see it (https://twitter.com/#!/Narrabrite/status/145699129107021825)!
I posted a link to this page on Facey (and again tagged you – https://www.facebook.com/allison.michell.davis)
As for my favourite posts – so many to choose from – but I am still busting to try the cedar plank salmon, I LOVED the string gardens and as for that peppermint bark that you made for your sister, what can I say – ambrosia!!
Finally for some extra unasked credit, I thought that since I first found you on Pinterest I would go back there – I followed all of your boards, and then pinned a link to this page and tagged you in it (here's a link http://pinterest.com/pin/111112315776174320/) and then just for fun I also tweeted that one!
Crikey – I'm beginning to become that kid in class that we all hate, but hey, I love my daily emails from radmegan and anything I can do to help spread the love is a pleasure!
Good luck everyone!! xx
Allison! Congrats and thank you so much for the kind words! It would be my pleasure to send this little elf down to you in the land of Oz! Please send me your mailing address and he will be on his way

megan at radmegan dot com. 
——————————————————————————


To everyone else, thank you so so much for reading, for participating and for following this blog! You all mean so much to me and I really wish I could have given a stuffed stocking to all of you! 


Stay tuned for a New Year's Give-Away! I've got something very special in the works for you- so if you didn't win this time, give it a few of weeks- 2012 is just around the corner and so are more radmegan give-aways!