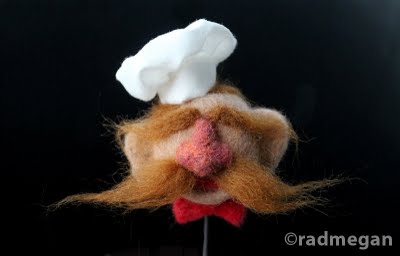 As you probably know, I am not

Jim Henson

, genius creator of the Muppets. So I can't in good conscious sell the needle-felted Muppets I've been having so much 

fun

 

making

*. I can however, give them away. And what better way, than with a contest? To spice up this contest, I'm giving away my latest needle-felted Muppet,

The Swedish Che

f

!!, WITH the awesome cookbook My Last Supper, by Melanie Dunea.
My Last Supper is an incredible book of recipes and stories from 50 great chefs who dish on what their last meal would be, if given the choice. Also, I bought 2 copies of it on accident, so rather than return one, I'd prefer to make one available to a lucky blog-follower!
Below are some of the behind-the-scenes photos of the making of the Swedish Chef, who will also be mailed to that same lucky winner… 
After watching about 50 Swedish Chef videos online, and singing his "Bork Bork Bork" song along with each one, I have to admit, I'm already sad to see him leave my kitchen…
Hopefully, your kitchen will be full of love and Swedish meatballs so that he will feel right at home. 
Without embarrassing him, I just want you to know what an awesome guy the Swedish Chef is. He's fun-loving, a great cook, and he totally wasn't bitter about being excluded from the list of 50 "Great Chefs" featured in My Last Supper. 
In fact, he decided to have a little fun with the cover of the book, and even posed over the faces of some of the chefs featured (as seen above posing over Jaques Pepin.)
That said, who wants to win my Needle-Felted Swedish Chef & the cookbook My Last Supper??
Here's How to Enter:
How to enter:
Be a follower of Radmegan 
In Words and Pictures
 and leave me a comment telling me so. 

(

MANDATORY in order to win. This contest is a thank you to all of my blog followers. Not a follower yet? Click the "Follow Me" link on the right-side of this blog, just under the email subscription box)
Additional entries:
Blog, Tweet, Facebook, etc. about this giveaway and leave me a comment with the url linking to your blog/Tweet/FB post. Leave a separate comment for each to count as an entry!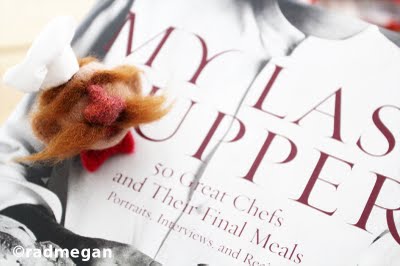 The winner will be chosen at random on the evening of September 30th, 2011, and announced here on October 1st, 2011. 
Good luck to you all! And thanks for reading!
* If you would like to discuss a trade for a needle-felted Muppet, or some other arrangement, please feel free to email me at Megan at radmegan dot com. Thanks friends!


THIS CONTEST IS NOW CLOSED: Winner posted here!