A couple of weekends ago, I attended
my niece's
wedding shower. During that trip, I was let in on a few family recipes- all favorites of the bride-to-be. One of her dessert requests for the shower was this chocolate mousse.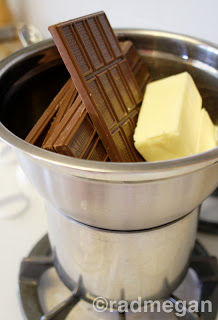 I had never made a chocolate mousse before, and was pleasantly surprised by how easy it was to make- even in a bustling and heavily-trafficked kitchen. The final-product photos I took of this recipe are admittedly not my finest, and I feel that I have only the mousse to blame for this. One bite, and I immediately understood why my niece had requested the creamy, rich, and airy dessert. I completely forgot about my camera, the shower, or really anything at all as I sunk into the luscious creaminess that IS this chocolate mousse. Have a glass of milk or cup of coffee handy when you try this one out. It's one to savor. Just be sure to take pictures BEFORE you take your first taste, otherwise… yea, you may forget completely. Here's the recipe:


8 oz. chocolate
6 tbsp butter
pinch of salt
3 eggs, separated
1/2 cup sugar
1 cup whipping cream + more for final topping


Melt the chocolate and butter in a double boiler. In a second bowl, beat the egg yolks by hand, and add a pinch of salt. Slowly add the yolks to the chocolate, while stirring constantly.
In another bowl, beat the egg whites and sugar until stiff peaks form. 
In a third bowl, beat the whipping cream until light and fluffy.
Fold the chocolate and egg white mixture together, and then fold in the whipped cream.
Chill for one hour. Scoop and serve, after dolloping each with whipped cream and chocolate shavings. 
Note that the original recipe (origin unknown) suggests adding 1/4 cup coffee when melting the chocolate and butter in the double boiler together! I might have to try that next!
Also, if this recipe is too involved, you could always try the

Swedish Chef's

recipe below! 
And speaking of Swedish Chef! Don't forget to check out the

contest

I posted earlier this week!