As I mentioned in the Keyless Lime Pie post, I am not normally a fan of diet recipes. However, Cook This, Not That isn't REALLY a diet cookbook. It's more about presenting alternatives. After a handful of friends (all of whom were dubious about eating a diet pie), gave the pie, and the book an enthusiastic thumbs up, I excitedly moved on to my next calorie-challenged treat: Chocolate Pudding with Olive Oil & Sea Salt.
This recipe is a dream for a chocoholic. It is comprised of items found in almost any pantry, is uncomplicated to make and tastes SUPERB.
To make your own chocolate pudding at home, you will need the following:
1 Tablespoon unsalted butter
4 oz. bittersweet or semisweet chocolate, chopped
1 Teaspoon vanilla extract
Pinch of salt to mix in, and course sea salt (I used fleur de sel) to garnish
Combine the sugar and cornstarch in a medium saucepan over low heat. Slowly whisk in the milk. Bring the liquid to a simmer, and then stir in the butter, chocolate, vanilla, and pinch of table salt. Remove the pan from heat, and continue stirring until the chocolate has melted completely. Pour into 4 small glasses or ramekins and place in the refrigerator for 2 hours to set.
Before serving, drizzle each pudding pot with olive oil and sea salt.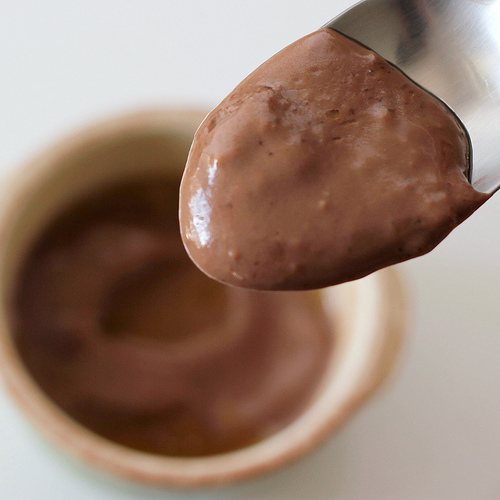 In case you are wondering, this dessert weighs in at the following:
310 calories
19 g fat
(10 g saturated fat)
29 g sugars
Which is pretty good- if you are comparing it to Dairy Queen's 900-calorie Chocolate Malt. Which, they are…
Happy reading, happy eating!