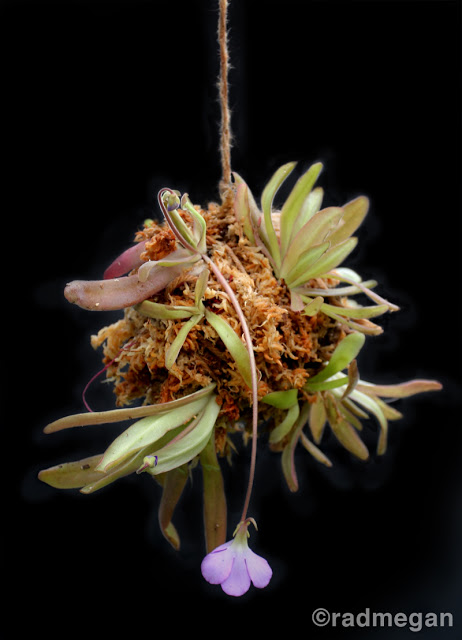 Yesterday on

Twitter

, I received the following message: 

The url that "

SarraceniaDude

" sent, was to 
stringgardens.com
 a site dedicated to the art of growing plants in balls of soil and moss, and then hanging them up from strings. I'd seen these in boutiques and even in the homes of my swankier friends, but hadn't thought to attempt them on my own. I grow an awful lot of plants at home already, and these looked fairly high-maintenance considering how much water they most likely need. 
That said, the temperature has been steadily dropping, so I threw caution and common sense to the wind, and decided that if there was ever a good time to try making my own string gardens, the cool months of autumn, was it!
After looking up other string garden how-tos (namely this and this) I gathered the following materials:
– The plastic, netted bags that produce sometimes comes in
– Long Fiber Sphagnum Moss
– A 1:1 mixture of peat moss and perlite
– Assorted plants (the runners off a Spider plant, some Baby Tears ground-covering from a shady party of my back yard, Scented geranium clippings, and assorted
Pinguicula
(one of my favorite kinds of carnivorous plant)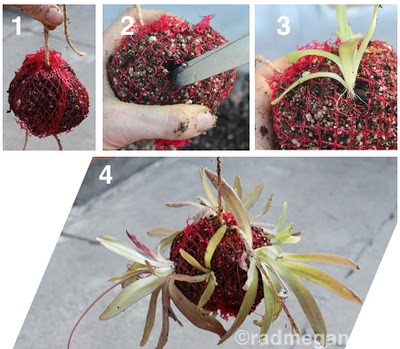 After using the pure water to dampen my mosses and soils, I mashed fist-sized balls of the peat-perlite mix together and placed them inside the plastic netting. I then wove a short piece of jute cord through open part of the netting to close the bag. Then, I poked holes into the dirt-ball and gently inserted the roots of my Pinguicula into each hole. I gave the entire ball a squeeze, carefully avoiding squeezing and breaking any plant leaves. Next, I took damp pieces of the Long Fiber Sphagnum Moss and wrapped them around the entire ball. I used a long (about 3-foot) piece of the jute cord to wrap around the moss- pulling the cord, adding more moss, wrapping with more cord.. etc. It was a process… 
I knew I was finished wrapping the cord when my entire ball of peat was covered, the plastic netting no longer visible, and the Pinguicula plants were snug in Sphagnum moss pieces.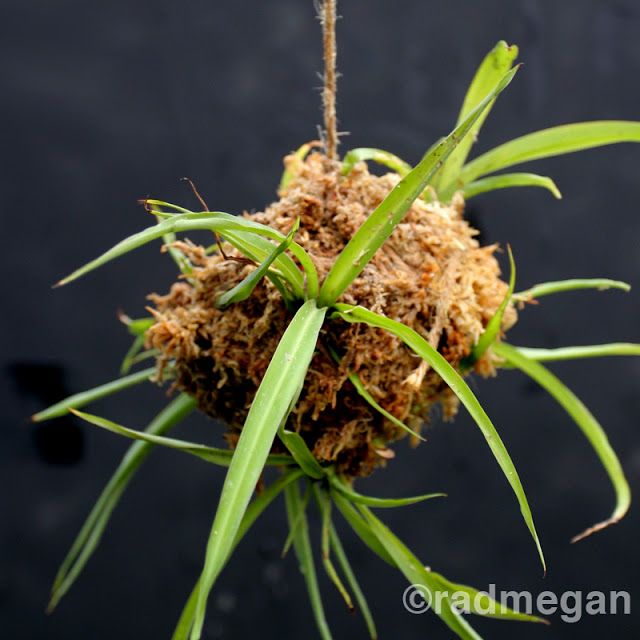 I repeated this process – instead, using potting soil (not peat/perlite) to make my Spider Plant String Garden…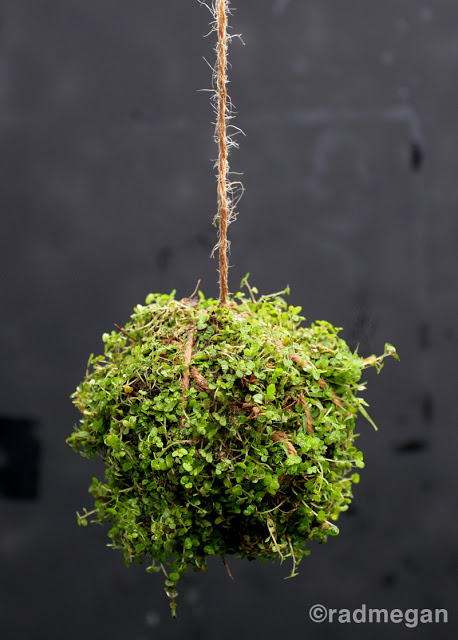 …And my Baby Tear's Moss String Garden…
And my Scented Geranium String Garden…
The Pinguicula ball was hung over a table of other carnivorous plants (where I hope not to forget about it!) The rest of the string gardens are in various locations around the back-yard. While I love the look of them and wish I was the kind of organized, tidy person who could keep them indoors, I plan on watering my string gardens about twice a week, via a "soaking bucket" of pure water, making them far too messy and soggy for me to keep in the house.
What do you guys think of these? Is this something you would attempt to keep alive? Would you try growing them indoors?