I used to keep a lot of beta fish as pets. I had a row of fish bowls lined up on my counter top, and a couple of hanging fish bowls above my couch. I adored the bright and colorful companionship of my fish, and lived with them for many years. As my sweet swimmy friends would pass away, I would clean up their bowls, and put them into storage. I've re-used a few of my fish bowls for other projects (like

the table-top water garden

), but hadn't thought about the hanging fish bowls until this past weekend when I decided to combine a few small carnivorous plants to make hanging terrariums.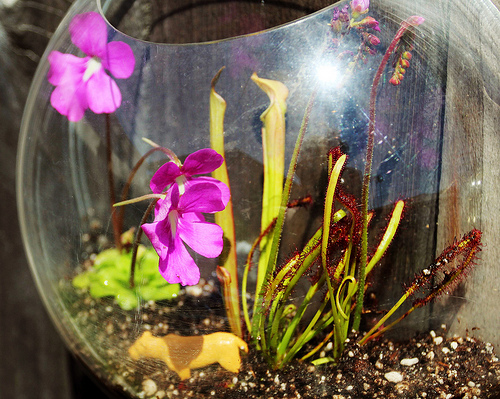 I have lots of carnivorous plants in my garden, and right now is the perfect time of year to start re-potting the plants that have outgrown their containers! Since I was already in the re-potting mood, (and had re-discovered my nifty hanging aquariums), I selected a few specific carnivores, and got to work making terrariums.
The plants I selected were (clockwise from top): Two small Sarracenia (trumpet plants) that I had grown from seed, and knew would stay small this year, two types of Pinguicula (butterworts) with lovely cheery flowers, and some Drosera capensis (basically a sticky-armed carnivorous weed in my garden.)
Carnivorous plants grow naturally in soil with very little nutrients, so instead of using a nutrient-rich potting soil which would likely kill them, I used a mixture of peat moss, sand and perlite. I wet the mixture with pure water (rain water, distilled, or reverse osmosis), and securely planted them in the plastic vessel.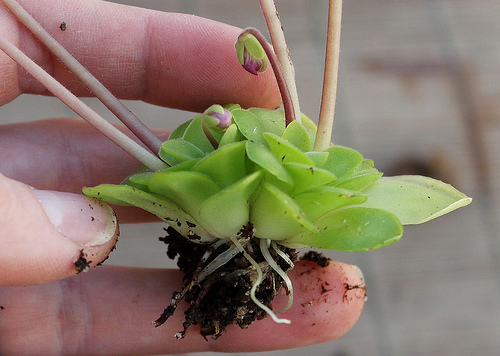 The shallow roots of the Pinguicula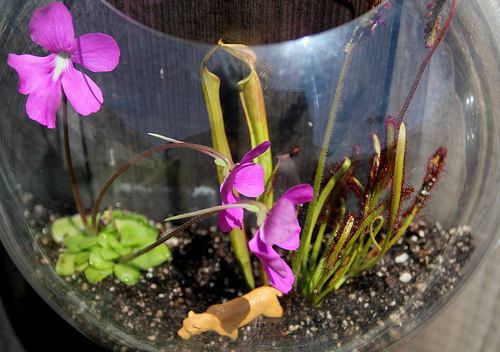 I planted my Sarracenia in the center of the terrarium so that it could grow up and out of the opening. Normally, I keep Sarracenia in plastic pots sitting in trays of water. I re-pot them every year, and will more than likely remove this Sarracenia from the terrarium next year, as it will become too large for the container. I added a plastic Saber-tooth tiger to the mix for good measure and hung my terrariums outside in the garden. These plants love bright sun, and lots and lots of clean water, so I placed them in a highly visible area (so that I won't forget about them and allow them to dry out too much!)
Since these terrariums are clear, they also look pretty cool hung back-to-back.

For carnivorous plants, check your local nursery, major home-repair shop (like Lowes or Home Depot) or look online! If you are interested in making your own hanging carnivorous terrariums, or keeping beta fish above your couch like I did, here's where I got the hanging bowl:
Thanks for reading and have a great day!