Hi friends! Quick announcements from radmegan HQ!  An article I wrote for Bitch magazine came out this week. If you get a chance, check out the "Primal" issue. It's got ladybugs on the cover of it, and on the INSIDE an article by yours truly! The piece is about making your very own "PMS Cupcake"! (Yea- remember that craft? You saw it here first!)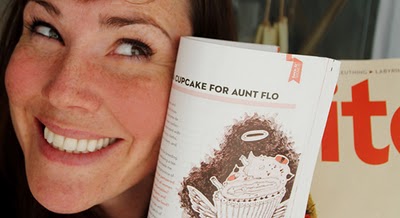 Based on the "Diaper Cake," this is a craft for ladies who get monthly visits from Aunt Flo, and could use a little package of products to see them through Flo's visit. The craft, and the magazine may not be for everyone… (note, my sweet Midwestern-born mommy groaned and sighed an, "
Uff da
" when I told her about it… but… but… it's a cute piece, so go look for it at your local bookstore, newsstand, or
online
.  
And also! If you are too busy or *ahem* embarrassed to make your own PMS Cupcake, you can now BUY ONE from my Etsy store! THAT's RIGHT! I finally have a few things in the store, including the helpful cupcakes, my slimming gardening t-shirts, some handmade rings I think you would like nice wearing, and a few needle-felted friends you might recognize from past posts. Get while the gettins good!
Ok- last bit of news…. Remember how I'm TEACHING at the

U

rban Craft Center

this Sunday? My class is SOLD OUT. I'm over the moon excited. I have a stack of gold star stickers for my pets, and a ruler to rap the knuckles of class misfits! If you wanted to attend this class, and either couldn't work it in to your schedule or it filled up too quickly, take heart! I'll be teaching yet another felting class at the Urban Craft Center on April 16th. It's not online yet, so just mark your calendars… I'll let you know what I'll be teaching, and when you can sign up.
Thanks as always for reading, commenting, and keeping me feeling rad! 
By the way- here's a quick link to my store!