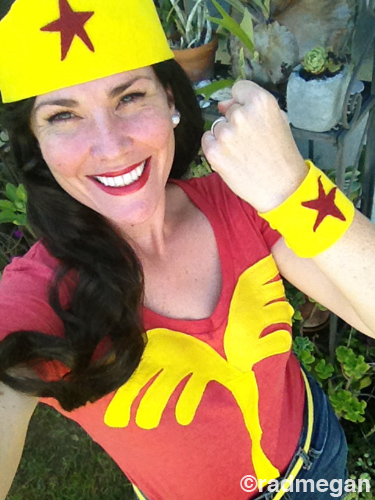 When I was a youngster, my mom made Halloween costumes for me and my sister by hand, every year. She's one of those crazy talented, super busy, do-it all moms; a real, live Wonder Woman. So when I started thinking about what I was going to be this year, I knew I wanted a homemade costume that was quick, easy, cheap to make, and if it could be a nod to all the working moms and busy juggle-everything ladies out there, all the better! Wonder Woman ahoy!
I up-cycled a red-ish tee-shirt I already owned, and grabbed a few sheets of golden felt from my massive pile. If you were to buy felt sheets, they would cost you about 39 cents each, and you would need about 3 of them.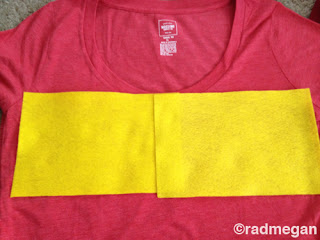 You, of course do not need to use a tee shirt. If you had a tank top or even a TUBE TOP you could apply this same design. My tube top days are far behind me… 
I began by cutting one piece of my felt in half, across the shorter end. From there, I started cutting a rainbow-y shape that ended up looking a bit like a Ronald McDonald hand. I used one of Ron's hands as the template to cut the second one. I grabbed some scraps for the center of the shape… It might to look like a LITTLE a Palm tree made of fast food French fries, but it's not. It's Wonder Woman. Wait for it…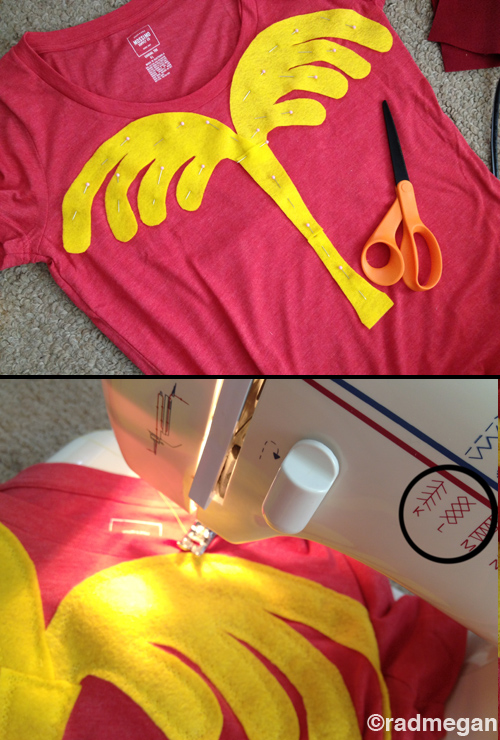 I pinned the shapes in place and stitched them using the double zigzag stitch (circled at right.) Once the entire shape was stitched in place, I set it aside.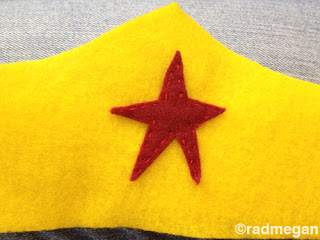 Taking another piece of felt and cutting it in half across the short end, I roughly measured how much felt I'd need to make a head piece that would sit on my head comfortably. While wearing a wig. I cut out a red star, stitched it on by hand, and then sewed up two seams on the golden head piece. 
I needed two cuffs to complete the look. I managed to get two cuff pieces out of the scraps from my headpiece. If you don't have extra, don't worry, there should be that third piece of felt lying around somewhere. 
After I cut out and hand stitched two red stars to my cuffs, I needed a comfy way to attach them. I ended up making clasps with yellow buttons, and loops of elastic that were sewn into the opposite side of the cuff. The elastic loop wraps around the button and presto! A one-size fits MOST Wonder Woman cuff.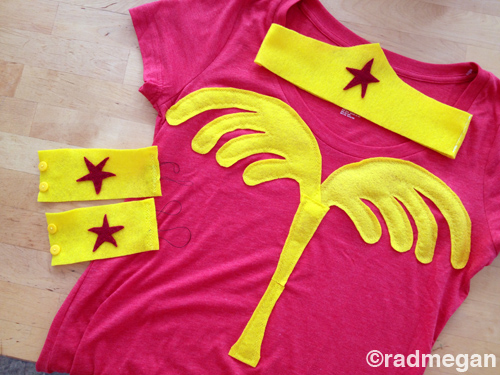 The entire costume! Including the headband, two wrist cuffs, and the modified shirt. Done and done!
This crazy easy costume costs is to be paired with a denim skirt or jeans. I also added a yellow rope belt for a bit more authenticity. My handmade Wonder Woman outfit DOES look crafty and handmade, but it costs next to nothing, used material I'd been hoarding, and was completed before lunchtime. What's wrong with that?
I 
did buy
 a ten dollar wig at Target yesterday, because I wasn't ready to commit to dying my hair. If you are in a pinch for handmade Halloween costumes this year, feel free to crank out my $10, 2-hour Wonder Woman get-up – and p.s I'd love to see photos! Happy almost Halloween, friends!!