Over the weekend, it rained and blustered outside; perfect bread-baking weather! I had just come across a recipe for no-knead bread through one of my new blog followers. (You know I welcome each of you guys by seeing who else you have subscribed to, right? It's a great way to discover awesome new blogs, and get a sense for what you're into!) 
The recipe I followed can be found at the

Blessed Hearth

's blog (go on, check it out!)

 – head's up, it's delicious.
I put the water and sugar into a mixing bowl and stir well. Add the yeast and stir again. Let rise for 10 minutes.
Add the flour, salt and rosemary and mix well with your mixer. Cover with a damp tea towel and rise for an hour or until doubled.
With oiled hands divide dough into two parts and form rounds. Sprinkle course sea salt and chopped fresh herbs on top as desired. Bake in an 375 degree oven for 30 – 35 minutes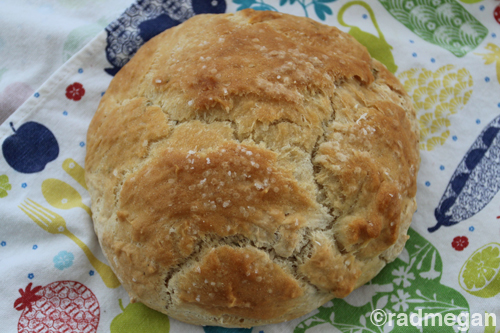 I wish you could smell this. Our home smelled like a hug from your favorite person when the bread was ready… and it tasted like a warm summer afternoon in Italy. 
And… just so you know, I baked this recipe twice over the weekend. The first time I baked it, I was completely distracted. I was working on freelance projects, weekend meetings, etc. etc… and the recipe came out as flat as can be! We called it our Accidental Focaccia Bread. Possibly a combination of too much yeast (the dough rose like a sea monster from the middle of a lagoon!) or too much water. Dough "rounds" were not possible… in fact, I poured the dough out on my Silpat mat…
…and I was so happy that I did, because even though I ended up with something that looked like a gigantic pancake, it was still delicious! We cut up our doormat of a "loaf" into small squares and dipped it into some olive oil. Yum!
In fact, when I baked this no-knead recipe the second time, I was kind of hoping it would turn into Focaccia again instead of the two perfect loaves it yielded.
Sometimes accidents in the kitchen still end up being delicious!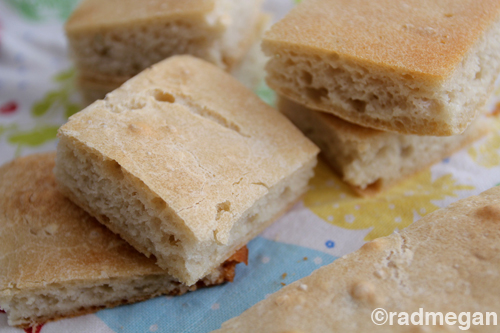 So whether you read this recipe and follow it exactly, or have one eye on your kids, dog, email… you can rest assured that no matter what the shape, this bread will still turn out yummy! Thanks again to the

Blessed Hearth

for the inspiration and recipe!