February 14th is right around the corner, and this weekend it dawned on me that I needed to come up with a couple of no-frills Valentine's Day gifts for my oh-so-frugal, mountain-man husband.
I LOVE being surrounded by nature- in fact, living in Los Angeles, a regular diet of hiking, beach-walking and camping is what keeps me sane! Fortunately, I married someone who shares my appreciation of wide open spaces, so when I thought about what he might like for Valentine's Day, it wasn't an expensive, glossy box of chocolates, or even a store-bought card. (I happen to love those things and buy them for other people, but not for my husband.)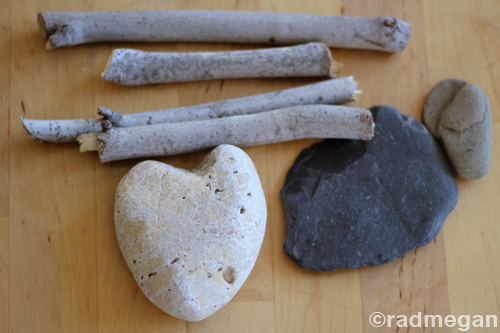 For Valentine's Day inspiration for my husband, I turned to some of the "natural treasures" we have around the house; little polished rocks and especially straight twigs- the things that find their way into our pockets while we're out exploring.
With my trusty sander and soldering iron, I spent a few minutes wood-burning messages to my husband on little segments of willow branches…
Then I came inside, and with some acrylic paint and a somewhat fine-tipped brush, I painted up a couple of notes on the heart-shaped rocks we'd collected.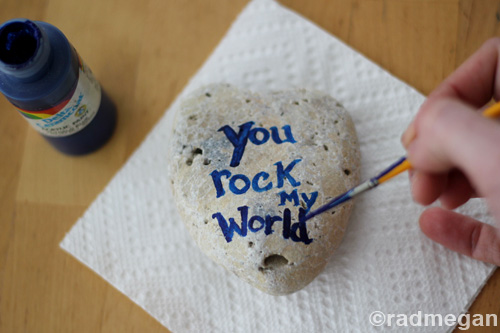 I put the two messages together in a wooden bowl on our dining room table, and when my Mountain Man spotted them, he was genuinely touched.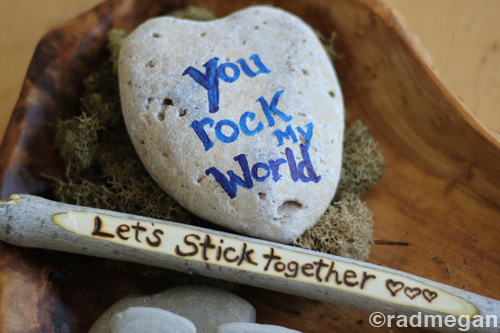 It was a perfect way to tell my outdoorsy husband how I feel, AND the perfect Valentine for his frugal heart because I didn't spend a dime on the materials!
This simple craft only took a few minutes to complete, but sometimes the simple things end up being the most meaningful.