I know it's not really that cool to talk about money publicly, but I have no problem telling you that I'm not rich. I'm not even in the neighborhood of "comfortable". Anything I have, I worked my butt off to get. And since I'm also not great at saving my money unless there's a goal that I can see, I decided I needed to invent a piggie bank that would help me save up for something that's very important to me: travel.
I might not have the latest clothes, or fully functioning electronics, but I have a brain full of memories from my travels all over the United States, Canada, Mexico, the Bahamas, England, The Netherlands, France, The Czech Republic, Italy, Germany, Austria, Norway, New Zealand and Australia. What my travels have taught me, is that I need to see more. There are so many places to go, people to meet, and lessons to learn. When I am traveling, I feel alive.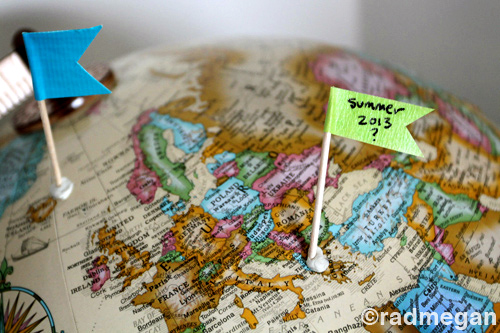 But darn it. Travel can be expensive. 
So to be able to afford another vacation, I decided I needed to keep my eye on the prize. And what better way to see the world, than by saving your dollars IN a globe. I converted one of my globes when I got home from

last summer's travels

, and the bank has worked so well for me, I wanted to share it with you here.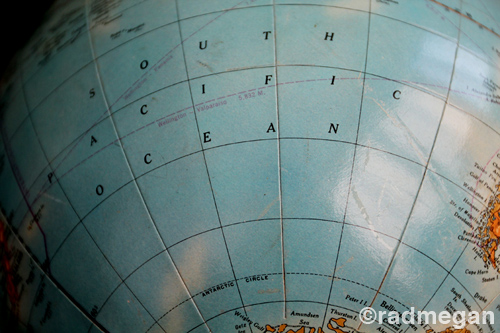 First, you need to start with a metal ruler, an X-ACTO knife or utility blade, a roll of clear tape and a paper, or cardboard globe. My method of conversion will not work for glass or metal globes. Begin by identifying the seam in your globe, (typically running along one of the longitudinal lines somewhere in the Pacific Ocean of your globe) and choose any other longitudinal line as your starting point. (Cutting along the seam could weaken the overall integrity of the globe.)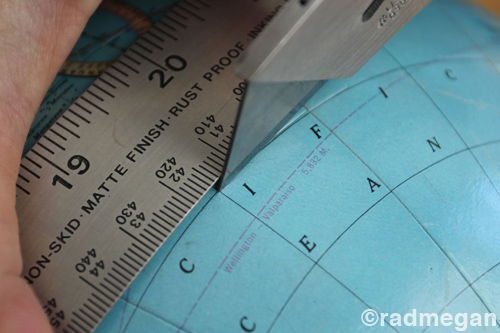 Next, take your ruler, and place it along one of the latitudinal lines of the globe, and gently score it with your blade. Continue scoring until you break through the cardboard.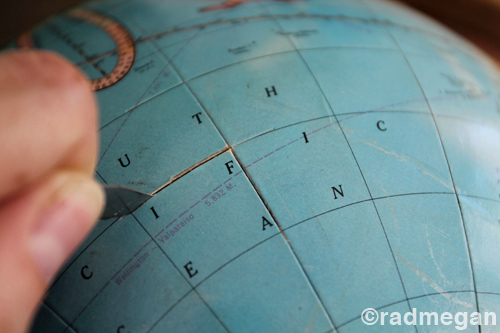 Gently slice three sides of one of your globes grid squares. 
Fold a 2-inch piece of tape halfway over itself, and then place it, sticky side down, directly onto the inside of the "door panel" you just created.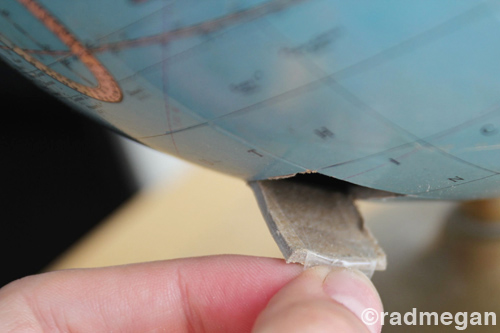 This will act as your very discreet pull-tab when you want to stuff your globe full of loot!
And when the door is closed, it is hardly visible at all!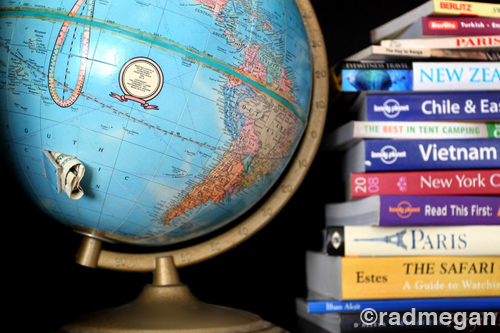 Unless you are forgetful about closing the door on your new travel piggie bank!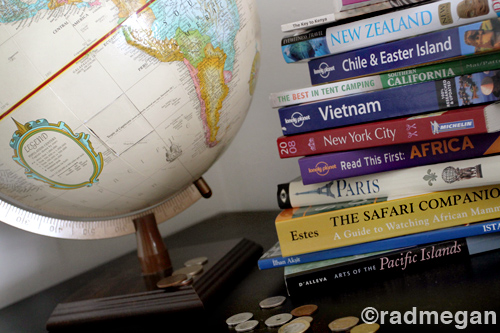 Loose change will fit into the globe just as well as bills, however, stuffing your globe with coins will make it more obvious that it has been converted if someone gives your globe a spin! Also, tucking away bills will help you reach your travel goals a LOT quicker than saving coins.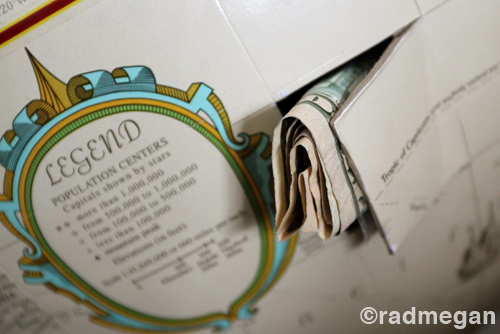 Place your globe somewhere that you will see it every day, so that you have a constant reminder to hold onto your dollars!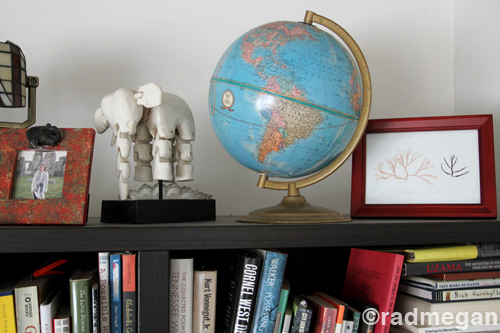 And when you are ready to buy your plane ticket, you can EASILY remove all of the money you saved in your globe with the aid of a bent wire coat hanger! No need to smash this piggie bank to retrieve your funds- it can be used over and over again.