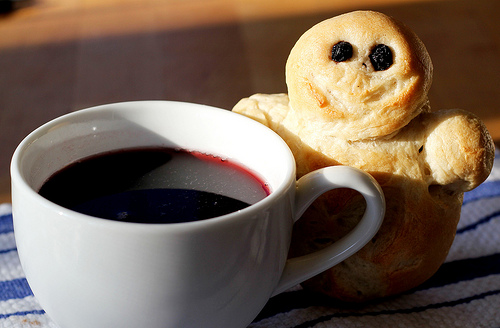 Tomorrow marks Día de los Muertos in Mexico and Día de los Difuntos, in Ecuador. Growing up on the California/Mexico boarder, I'm familiar with Día de los Muertos (Day of the Dead) but had never heard of the Ecuadorian day of remembrance until recently. 


I was admiring a houseplant at a friend's home this summer when I first heard of Día de los Difuntos. He told me the Red Amaranth I was fingering had many uses in traditional South American dishes and went on to mention the Amaranto Skulls and Colada Morada. My head began to swim with excitement and I scribbled down a few notes on a scrap of paper for later research. When I got home, I started looking into Amaranth, and found that I could buy seed online and at most major health food stores. I made my purchase and started looking for recipes.


According to the interwebs, Peruvians used fermented seeds to make chicha, or beer. In Mexico it is popped to make a sugary treat called alegria. And before the Spanish conquest in 1519, Aztec women made a mixture of ground amaranth seed, honey or human blood and shaped the mixture into idols that were eaten ceremoniously. Since we had JUST run out of human blood AND honey, that recipe was off the table.
The blood and idol concept lead me back to colada morada and subsequently to guagua de pan. Colada Morada is thick and sweet drink made of a variety of fruits and spices, many found only in the Andes. Guagua de Pan, (pronounced waa waa) means "baby bread" and is made to look like a small swaddled child. This traditional meal is served in the fall in honor of Día de los Difuntos. Made at home, or purchased at panaderías family and friends exchange and eat them with colada morada to honor one's ancestors. From what I've read, it is delicious.
Did I make my version with a traditional recipe? No. But here's why. My local supermarket doesn't carry specialty items from the Andes like champagne fruit or purple corn flour, so I made due with what I had at home, and put "Ecuador in November" on my list of travels, and "colada morada and guagua de pan" on my list of foods to try. My version was made with fresh bagel dough and a mixture of every fruit drink we had in the house, blueberry, cranberry, and some beets. Mmmm but it was a pretty color. Feliz 
Día de los Difuntos!