Happy Summer Solstice everyone. I hope life has been treating you well. I've been "in the weeds" as they say, trying to tend to a lot of small tasks while struggling to make progress on larger projects and goals I thought would be farther along by now. 
Admittedly, when I let all those small distractions take up my days, it gets me a little down. I've been feeling like one of those cars involved in high-speed freeway chases, so popular here in Los Angeles… you know when the driver has been going 90mph for several hours and a police spike-strip takes out one of the wheels? That's how I've been feeling- except, instead of pulling over, I keep trying to drive on; metal wheel wells throwing sparks everywhere, and a crowd of onlookers shaking their heads… 
I've just now come to terms with the fact that my blog posts have been few and far between as of late. I did need to pull over. I needed to find my pace. Thus is the life of a freelancer, right? Schedules go nuts and sometimes, life gets in the way of passion. Hopefully not for too much longer. I'm really pouring myself into business plans and major life decisions that will hopefully mean I get to craft for a living, full-time. Finger's crossed, ya'll. 
And speaking of fingers, I've been working with my hands as much as possible at night to relieve stress and hopefully come up with a few odds and ends for the blog. I've been using my

radmegan knitting forks

to make some jewelry more appropriate for summer months. I've had the pleasure of attending a few outdoor gatherings lately, and these new necklaces (which use multiple colors of hemp cord) have gotten me quite a bit of attention!
With four different colored strands of cord, I use the second method of knitting in my

YouTube video

to make these necklaces. 
Once I had my desired length, I added two small decorative beads, and used a square knot to attach an additional length of cord for the necklace "chain."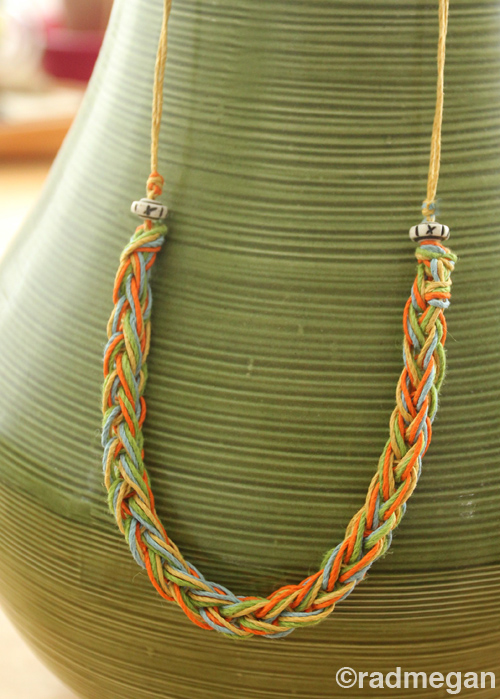 I'm making a small batch of these, and hope to put them (as well as some of my new wooden rings) in my etsy store later this week. 
I hope you like them… and I hope you're still with me, even when though I haven't been posting as often as I'd like!