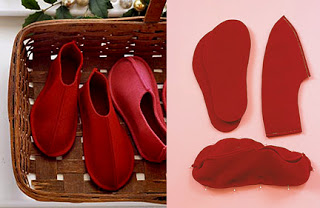 When the temperatures began dropping, and walking barefoot through the house started to feel more like punishment than a pleasure, I knew it was time for slippers. 
I've got several patterns bookmarked, but Martha Stewart has a

Felt Slipper Template

online that is so straightforward, you can have toasty toes in no time!
Martha's directions can be 

found here

. I didn't have 1/8 wool felt, so I used regular craft-store felt, and doubled it up on the side panels, and trippled it on the soles. 
And as a side note, does anyone have any experience with this wool felt vendor? I'm thinking about buying some of these felt pieces. They look really cozy!